The only way to defeat them, is to really defeat them, totally, not one brick left on top of another.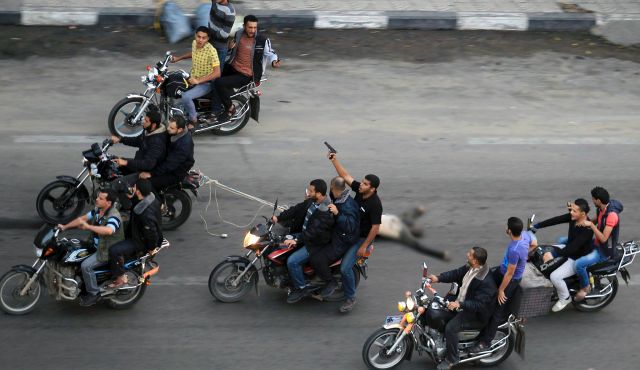 The violation so openly brazen that even the UN's slush fund for paleostinian terrorism training of the youth (Jew hatred 101 indoctrination) UNRWA, was forced into a moment of moral clarity.
Wake up call for the fence sitters, this is how Hamas and other pious Islamic jihadis full of basic Islam 101 behave. Using their people as future press releases is their normal way of conducting business.
AGENCY DEMANDS FULL RESPECT FOR THE SANCTITY OF ITS PREMISES IN GAZA
East Jerusalem
Yesterday, in the course of the regular inspection of its premises, UNRWA discovered approximately 20 rockets hidden in a vacant school in the Gaza Strip. UNRWA strongly condemns the group or groups responsible for placing the weapons in one of its installations. This is a flagrant violation of the inviolability of its premises under international law. This incident, which is the first of its kind in Gaza, endangered civilians including staff and put at risk UNRWA's vital mission to assist and protect Palestine refugees in Gaza.
Immediately after discovery, the Agency informed the relevant parties and successfully took all necessary measures for the removal of the objects in order to preserve the safety and security of the school. UNRWA has launched a comprehensive investigation into the circumstances surrounding this incident.
UNRWA has strong, established procedures to maintain the neutrality of all its premises, including a strict no-weapons policy and routine inspections of its installations, to ensure they are only used for humanitarian purposes. UNRWA will uphold and further reinforce its procedures.
Palestinian civilians in Gaza rely on UNRWA to provide humanitarian assistance and shelter. At all times, and especially during escalations of violence, the sanctity and integrity of UN installations must be respected.
Honest Reporting sums it up this way:
Gaza Conflict Day 10: Rockets Found in UNRWA School
. The UNRWA found 20 rockets in one of its Gaza schools. And they weren't from the school's science club either. Meanwhile, Patrick Martin of the Globe & Mail had a schoolyard lesson of his own  in Human Shields 101:
Heading toward the exit, we were overwhelmed by the jet-like sound oftwo rockets being launched from somewhere near the school. Hamas, or some or militant group, clearly is hoping the Israelis won't strike at the launchers, which are kept underground until the moment of firing, because they're close to the school and so many refugees.

As the Hamas-made missiles screamed off into the sky, leaving a white vapour trail, the kids all cheered.
From somewhere in the Middle East: (It's more than likely not Hamas, but it gives a great picture of their mindset reproduced by their co-religionists elsewhere)