This is in connection with this post published yesterday about the same event.
Google translation
Police denies laxity around swastikas at demonstration
The police immediately intervened Saturday when she was told that they were showing swastikas in an anti-Israel demonstration.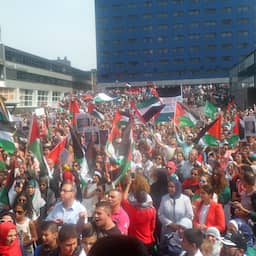 That Esther Voet, director of the Center for Information and Documentation on Israel (CIDI), told Wednesday. CIDI spoke Wednesday with the Hague on the demonstration.
Jewish organizations found that the swastikas were seen for too long at the demonstration. She dived under the CIDI already at 14.45 hours.
However, police say until 16:00 to have received and then the plates immediately taken down, just as explained notification rate after the consultation has.
The Public Ministry is investigating whether there was criminal manifestations. CIDI has filed against the demonstrators held up signs. Base announced that "the public prosecutor and the police take seriously our filing and priority treatment.