The funny aspect to it all, is that it's Neo-Nazis marching along with Islamonazis, who are negatively comparing the PM of the Jewish state, Benjamin Netanyahu, to Adolf Hitler, a monster that they admire and follow. It just goes to show you the lunacy of the Left (in this case the racist Left) and Islamic pajamas and slippers club members.
NOTE: The below picture is of Islamonazis in Syria.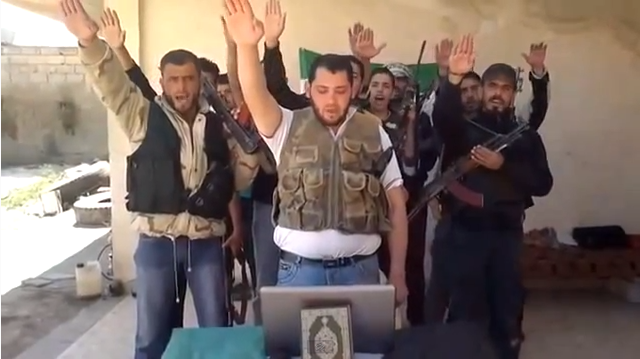 Neo-Nazis, Islamists declare 'You Jews are beasts' during protest of Israeli operation
Man holds boycott Israel sign 

Photo: REUTERS/CHRISTIAN HARTMANN
BERLIN – A demonstration in Frankfurt against Operation Protective Edge erupted into violence, with protesters tossing stones at the police.
According to the Frankfurter Rundschau paper, about 2,500 protesters appeared in downtown Frankfurt, screaming "God is great," and slogans such as "freedom for Palestine" and "children-murderer Israel."
Eight police officers were injured. One sign at the rally was titled, "You Jews are Beasts."
German media reported that after the protests, groups sought to locate Jewish institutions. The Frankfurt police said Jewish institutions would be protected. It is unclear if the goal was to attack said institutions.
According to the Rundschau, student organization Left-SDS, Islamists and some members of the Neo-Nazi group National Socialists Rhein-Main attended the anti-Israel protest. Flags from Turkey, Iraq, Saudi Arabia and Hamas were on display at the protest. Banners compared Prime Minister Netanyahu with Adolf Hitler.