The next time someone claims EU member states are still sovereign nation states, remember to laugh in their faces.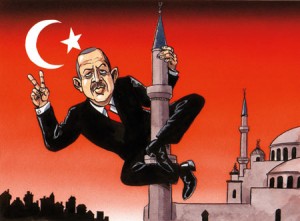 NOTE: I had to take a rudimentary exam for Finnish, and am still solidly behind the measure.
EU Court Bars German Tightening of Visa Requirements for Turks
Germany Had Required Language Tests for Granting Visas to Spouses of Turkish Immigrants
BRUSSELS—Germany can't require the spouses of Turkish immigrants to show a basic knowledge of the German language before granting them visas, the European Union's top court ruled on Thursday, overturning a condition aimed at discouraging forced marriages and at promoting integration.
Germany's government has since 2007 required that the spouses of long-term immigrants from outside the EU take a language test before they are allowed to join their partners in Germany.
That requirement was challenged by Naime Dogan, a Turkish national who wished to join her husband in Germany. Her husband, also a Turkish national, has lived in Germany since 1998, managing a business and holding an unlimited residence permit.
The German Embassy in Ankara refused a visa to Mrs. Dogan in January 2012 because she didn't have a strong enough grasp of German. She challenged the decision in a Berlin court, which asked the EU's top court to rule on whether Germany's language requirement was compatible with EU law.