.
Hamas being Hamas and very muslim.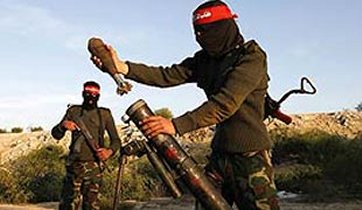 Hamas Bombing Civilians, Using Gazans as Human Shields
Hamas is in violation of international law both in targeting civilians and in using its own population as human shields.
By Elliot Friedland
Wed, July 9, 2014
Hamas terrorists in Gaza. (Photo: © Reuters)
Hamas terrorists in Gaza. (Photo: © Reuters)
The Islamist terrorist group Hamas has launched hundreds of rockets into Israel over the last few days from the Gaza strip, which it controls. In response, the Israeli army has announced the launch of "Operation Protective Edge," a new campaign to end attacks from Hamas-controlled Gaza and is preparing for a possible ground invasion.
Jewish-Arab tensions have been soaring since the abduction and murder by Hamas of three Israeli teenagers: Eyal Yifrach, Gilad Shaar, and Naftali Fraenkel by terrorists. The situation was further exacerbated when 17-year old Mohammed Abu Khdeir, an Israeli-Arab, was abducted and burned alive in a suspected revenge killing by seven Israeli extremists. The spate of murders was strongly condemned by Israeli Prime Minister Binyamin Netanyahu and Palestinian Authority President Mahmoud Abbas.