And France let em in.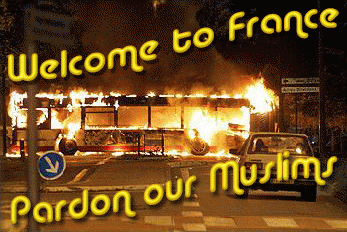 Islamist plot to blow up Eiffel Tower, Louvre and nuclear power plant foiled, say French police
French police stumbled on terror plans after decrypting coded messages between Algerian butcher living in southern France and high-ranking members of al-Qaeda in the Maghreb
France foiled an Islamist terrorist plot to target the Eiffel Tower, the Louvre and even a nuclear power plant, it emerged on Wednesday, as the country unveiled new, tougher anti-terror rules.
French police stumbled on the plans after decrypting coded messages between a 29-year-old Algerian butcher living in the Vaucluse, southern France, known only as Ali M, and one of the highest-ranking members in al-Qaeda in the Islamic Maghreb, or AQIM.
According to Le Parisien newspaper, in April last year, the married father of two who went by the pseudonym Abu Jaji was asked by his AQIM contact, whose web alias was Redouane18, to make "suggestions concerning how to conduct jihad in the place you are currently".
Ali M suggested targeting nuclear power plants, "planes at the moment of take-off", and a string of French landmarks, including the Eiffel Tower and the Louvre museum in Paris.
Failing that, he suggested launching terror attacks on "the modest and poor French population" in markets or nightclubs, as well as police patrols.