Sweden, as we have all come to know it.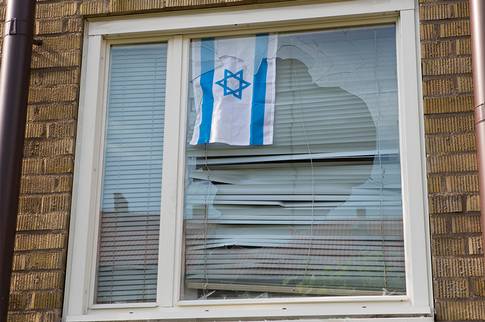 Man beaten in Malmo for hanging Israeli flag
(JTA) — A man was beaten severely for hanging an Israeli flag outside his window in the Swedish city of Malmo, police said.
Several unidentified men assaulted the 38-year-old man with metal bars after they hurled a stone at his window on Sunday evening, the Svenska Dagbladet daily reported Monday. The victim, who was taken to the hospital, was not identified by name.
After the stone hit the window, the man went downstairs and was assaulted, according to Malmo Police spokeswoman Linda Pleym. She said his injuries were serious but not life threatening,
"He was attacked because of the flag," Pleym said.
The man managed to escape his attackers and was found prone by passers-by on an adjacent street. Paramedics rushed him to medical treatment in an ambulance. Police have no suspects in custody.
Several hundred Jews live in Malmo, a city of approximately 300,000 where a third of the population is made up of people who were born in Muslim countries or whose parents were born in those countries.
Several dozen anti-Semitic attacks occur in Malmo annually, according to community leaders and police, including repeated attacks on Jewish institutions.
Read more: H/T: Kumitonttu Via SVD.se:
38-year-old man beaten with iron rods
A 38-year-old man was severely beaten with a metal rod in the residential Seved in Malmö last night. The police assumes that the assault was a hate crime.