.
Islamonazis looking for a bruising, and Israel is readying itself to deliver a knockout.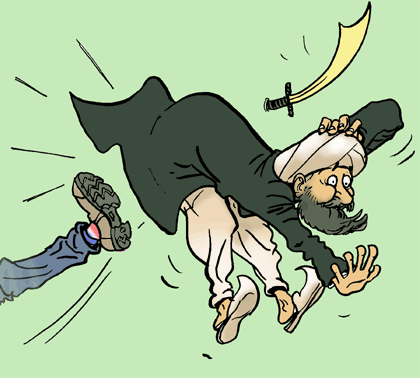 Israel Calls Up 1,500 Troops as Tensions Mount With Hamas
Video | Hamas Vows Vengeance for Israeli Strike Hundreds of mourners gathered in Gaza on Monday for the funeral of two of the militants killed in an Israeli airstrike earlier the same day, and a Hamas spokesman pledged to avenge their deaths.
By ISABEL KERSHNER
JULY 7, 2014
JERUSALEM — Israel and the militant group Hamas seemed set on a collision course on Tuesday, with an escalation of cross-border clashes around the Gaza Strip, Hamas vowing to avenge the deaths of six of its fighters, and Israeli warplanes attacking dozens of targets in the Palestinian coastal territory.
Lt. Col. Peter Lerner, a spokesman for the Israeli military, said that the army was completing the deployment of two infantry brigades along the border with Gaza and that the government had approved the call-up of 1,500 reservists, mainly Home Front Command and aerial defense units. "If last week we were talking about calm being answered by calm," Colonel Lerner said, "we are now talking about preparing for an escalation."
Early Tuesday, the Israeli Defense Forces announced on Twitter that they had "commenced Operation Protective Edge in Gaza against Hamas in order to stop the terror Israel's citizens face on a daily basis."
According to a Reuters report, predawn airstrikes had hit at least 30 targets in Gaza, including homes of suspected militants.