.
If you think that jihad was a problem up until now, you haven't seen anything yet.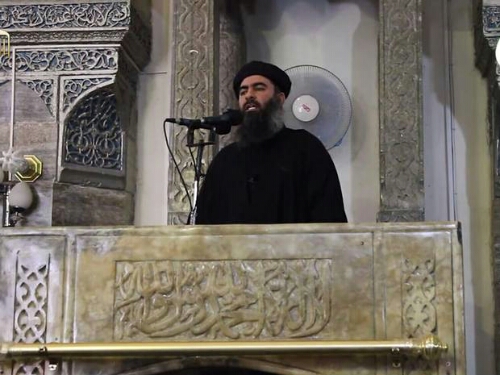 Islamic State leader Abu Bakr al-Baghdadi addresses Muslims in Mosul
– Telegraph
Abu Bakr al-Baghdadi, the leader of the Islamic State, emerged from the shadows to lead Friday prayers at Mosul's Great Mosque, calling on the world's Muslims to "obey" him as the head of the caliphate declared by the Sunni jihadist group.
The notoriously secretive jihadi, who has never before been seen in public, chose the first Friday prayer service of Ramadan to make an audacious display of power in the city that the Sunni Islamists have now controlled for three weeks.
Speaking from the balcony in his new incarnation as self-anointed "Caliph Ibrahim", al-Baghdadi announced himself as "the leader who presides over you", vowing that he would return the Islamic world to "dignity, might, rights and leadership".
"I am the wali (leader) who presides over you, though I am not the best of you, so if you see that I am right, assist me," he said, dressed in a black turban and robe reminiscent of the last caliphs to rule from Baghdad.
"If you see that I am wrong, advise me and put me on the right track, and obey me as long as I obey God in you."
Al-Baghdadi hailed the jihadi "victory" which he said had restored the caliphate after centuries.
"God gave your mujahedeen brothers victory after long years of jihad and patience… so they declared the caliphate and placed the caliph in charge," he said.
"This is a duty on Muslims that has been lost for centuries."
In the address – which spread rapidly across jihadi websites with translations in multiple languages – al-Baghdadi also discussed practical matters, calling for doctors, judges, engineers and experts in Islamic jurisprudence to help develop the caliphate.