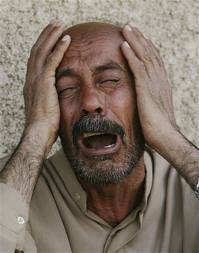 BAGHDAD — Almost 200 Sunni militants were killed in battles with the Iraqi Army on Thursday, the Iraqi government said, but the militants' group gained potentially significant economic ground in their struggle for leverage in the region, taking control of Syria's largest oil field.
The militants also made good on an agreement with the government of Turkey to release 32 Turkish truck drivers, who were handed over at a United Nations camp in Kurdistan.
The toughest fighting was in the Iraqi city of Tikrit, 85 miles northwest of Baghdad, where residents who had fled their homes for the suburbs said on Thursday that an intense bombing campaign by the Iraqi Army was underway in a fight to retake the city from militants with the Islamic State in Iraq and Syria.
Protester, officer killed, nearly 200 arrested in Egypt on anniversary of Morsi ouster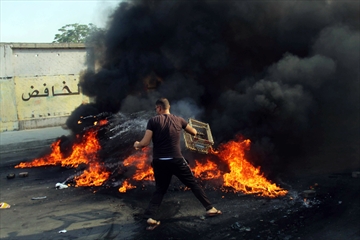 Ahmed Taranh,The Associated Press
A man tries to extinguish a fire set by supporters of ousted president Mohammed Morsi during clashes against Egypt's security forces in Cairo's Suez Bridge district in Egypt on Thursday.
CAIRO — A series of demonstrations and small bombings marked the anniversary on Thursday of the ouster of Egypt's President Mohammed Morsi, and authorities responded by arresting nearly 200 people as part of their crackdown against Islamists.
One of the bombs went off accidentally inside an apartment outside Cairo, killing two suspected militants who were handling the explosives, the Interior Ministry said. It said the men were in the apartment with two friends who fled after the blast in the Islamist stronghold of Kirdasah.
A security official said one Morsi supporter was killed during clashes between protesters and security forces in Cairo's twin city Giza. Late Thursday, a homemade bomb went off on a train in Egypt's second city, Alexandria, injuring five passengers, another official said. The bomb was placed in a suitcase under a chair — in a rare incident of directly targeting civilians.
A police officer was killed following violent clashes with protesters in Helwan, a district south of Cairo. The official said protesters in the area lobbed a firebomb at a deserted police station, and the force responded, setting off a firefight, in which the police officer was killed and two officers were injured. There were no immediate reports of casualties on the protesters side.
Iraq conflict: More than 2,400 killed in June, UN says
1,531 of those killed were civilians, more than 2,200 wounded
The Associated Press Posted: Jul 01, 2014 3:53 AM ET Last Updated: Jul 01, 2014 3:53 AM ET
Violence has claimed the lives of 2,417 Iraqis in June, making it the deadliest month so far this year, the UN said on Tuesday, underlining the daunting challenge the government faces as it struggles to confront Islamic extremists who have seized large swaths of territory in the north and west.
In recent weeks, fighters from the Islamic State of Iraq and Syria have spearheaded a lightning offensive across Iraq, plunging it into its deepest crisis since the last U.S. troops left in 2011. The al-Qaeda breakaway group now controls territory stretching from northern Syria as far as the outskirts of Baghdad in central Iraq.