Every enemy of the U.S., including the worst of the worst, have Obama pegged.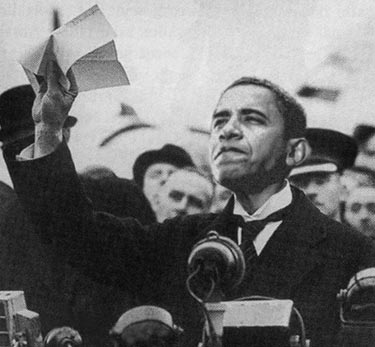 'Obama, did you prepare enough diapers for your soldiers?': Boastful ISIS video mocks US President as it reveals plans to expand its territory
Video shows laughing jihadist joking about Barack Obama and U.S soldiers

He suggests American troops are too scared to take on ISIS militants

Another fighter, Abu Saffiya, is filmed standing on border of Iraq and Syria
He rants about the 1916 Sykes-Picot agreement – the secret pact between Allied forces to carve up the Middle East after the First World War
Video also appears to show traumatised Shi'ite prisoners locked in a cell
Men told they 'worship Lucifer' before door is locked on windowless room

Saffiya goes on to boast about ISIS holding dozens of US-supplied vehicles
Islamists took the pick-up trucks from fleeing government forces in Mosul

Islamist militants fighting for ISIS appear to have released another propaganda video – this time showing a laughing jihadist mocking U.S. president Barack Obama.
The 15-minute long professionally edited video, filmed somewhere along the rebel-controlled border between Iraq and Syria, shows an unidentified fighter pulling up to the camera in a Ford 350 pick-up truck and asking: 'Obama, did you prepare enough diapers for your soldiers?'.
The slick video clip carries the logo of the AlHayat Media Center – the propaganda division of ISIS, which was also responsible for last month's slick recruitment video featuring three young British jihadists pleading with other Western Muslims to join them in the Middle East.
Joke: The professionally edited video shows an unidentified fighter pulling up to the camera in a Ford 350 pick-up truck and asking: 'Obama, did you prepare enough diapers for your soldiers?'
Jihadist: The bulk of the video features Abu Saffiya, an apparent ISIS militant who claims he comes from Chile and speaks in near-perfect English, albeit with an accent