True story: My first interaction with a Finn in Scandinavia, was in 1985 while travelling on a ferry from Stockholm to Turku, a man roaring drunk suddenly thrust himself through a small round porthole shouting and screaming his lungs off.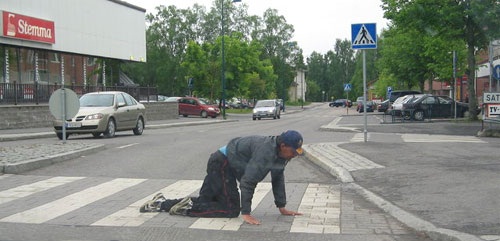 Swedish author accused of stereotyping over "Heikki the wino" character
A Swedish Finn living in Stockholm has complained to the Discrimination Ombudsman about a character in an illustrated children's book, Swedish daily Aftonbladet reports. The complainant says that the character, an alcoholic called Heikki, plays on Swedish prejudices about Finnish immigrants. The illustrator says the issue is of social class, not of nationality.
In a children's picture book, an alcoholic character called Heikki – a common Finnish male first name – is lying in a hedge next to a plastic bag full of beer. The drawing by Swedish writer and illustrator Gunna Grähs was too much for Sirpa Lamminpää, a Swedish Finn. She filed a complaint about the book to the Discrimination Ombudsman, a Swedish government agency that monitors occurrences of prejudice.
"I don't want my grandchildren to have this book in their hands," Lamminpää, 69, said in today's Swedish Aftonbladet newspaper.
Sirpa Lamminpää moved to Stockholm from Helsinki in 1976. Her third grandchild is due to be born in Sweden in the next two weeks. She is fed up with the Swedish stereotype of Finns as alcoholics and rabble-rousers.