The art & crime of making perpetrator into the victim.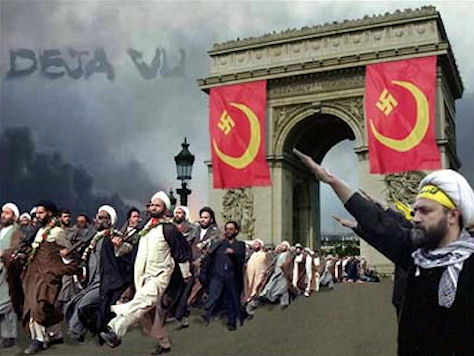 When we remember what Cain is, when we know what his signs, the swastika, the sickle and the crescent, represent, then he is no threat to us.

We move him onward, we cast him out and drive him away before he kills us and we kill him and the cycle of bloodshed that he starts everywhere he goes begins again.

It is when we forget that he becomes truly dangerous. When Abel and Cain cannot be told apart, then Cain can pretend that he is the victim and that Abel was the killer. The blood soaks into the earth and he washes his hands of it and pretends that he knows nothing about it. Men begin playing detectives, they search for the root cause of Cain's crimes and try to understand what provoked him this time.
The Curse of Cain
After Cain killed his brother, the Lord told him, "A fugitive and a wanderer shalt thou be in the earth."
But the natural order has been reversed, instead the Abels, if they survive, become homeless
wanderers and the Cains build their Caliphates on the tombs of their victims.
"Cursed shall you be from the earth," the Lord said, and so it has been.
The earth under their feet may be cursed, it yields nothing but sand and thistles, but they are nomads, forgetting agriculture, remembering only their tradecraft of murder. They become worshipers of death dreaming of the green verdant fields of paradise which they can reach only if they kill enough men, women and children.
Leaving devastation behind them, dead lands, lost cultures, widows and orphans, they claw their way up to heaven on a ladder of bones.
Everything around them dies until the only green is on their flags. They are cursed from the earth and they curse the earth. Where they go, the world dies.
It is not murder that makes it impossible for Abel to live with Cain says the State Department, says the European Union and says the New York Times. It is Abel's fields and houses that provoke Cain.
More here.  H/T: DP111