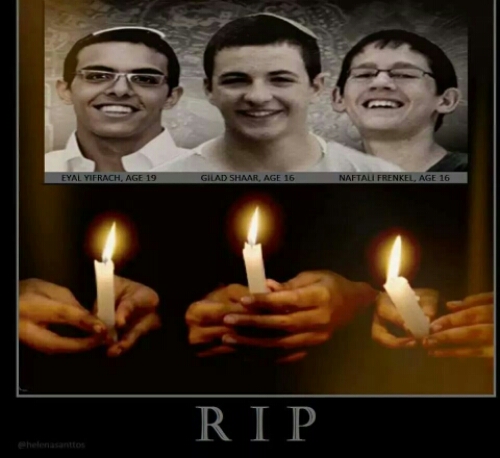 Breitbart News: The Wires
AP 6/30/2014 7:48:17 PM
JERUSALEM (AP) — The Israeli military found the bodies of three missing teenagers on Monday, just over two weeks after they were abducted in the West Bank, allegedly by Hamas militants. The grisly discovery culminated a feverish search that led to Israel's largest ground operation in the Palestinian territory in nearly a decade and raised fears of renewed fighting with Hamas.
Israeli Prime Minister Benjamin Netanyahu vowed tough action. "Hamas is responsible, and Hamas will pay," he said in a statement, adding the teenagers "were kidnapped and murdered in cold blood by human animals."
Eyal Yifrah, 19, Gilad Shaar, 16, and Naftali Fraenkel, a 16-year-old with dual Israeli-American citizenship, disappeared while hitchhiking home near the West Bank city of Hebron late at night on June 12 and were never heard from again. Despite the dangers, hitchhiking is common among Israelis traveling in and out of Jewish settlements in the West Bank. The teens had been studying at Jewish seminaries in the West Bank.