Truth be told, Islam is no more a race or ethnicity than Christianity.
The email said: "The misconception that it is 'racist' to be against the lifestyle of Islam or Muslims is incorrect as it is not a race, whilst Islam is not a religion and cannot be compared to any other religion as it is an ideology."
Bendigo mosque a cause celebre for right-wing outsiders

June 27, 2014
Chris Johnston
Councillor Mark Weregoda standing next to his business sign, to which protesters affixed black balloons. Photo: Justin McManus
The sinister black balloons started appearing in Bendigo in May. Then 10 days ago, a cluster of them were tied to the home and business of a local councillor who supports the building of a controversial mosque.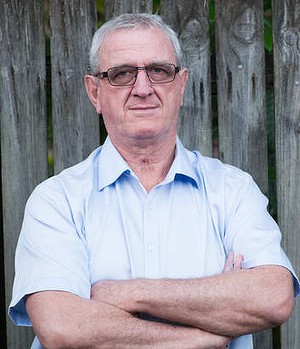 The councillor, Mark Weragoda,was born in Sri Lanka and moved to Bendigo in the 1980s. He says the unrelenting and increasingly vengeful campaign against the Bendigo mosque – which has been approved by the council but faces a tribunal appeal – is the first time he has faced racial hatred in the regional Victorian city.
When he spoke to the council in favour of the mosque at a heated meeting the night before he found the balloons, protesters played Middle-Eastern music to try to drown him out. He said the balloons didn't worry him and he felt sorry for the "minority" groups who opposed the mosque on racial and religious grounds rather than for planning reasons.
Mike Holt. Photo: Phill Jackson
A week before, The Bendigo Advertiserreceived an anonymous email headed "Mysterious black balloons revealed", which said that by accepting Islam into Bendigo, the community would be "endorsing domestic and child abuse" because under sharia law it was acceptable to "marry off child brides, perform genital mutilation, forbidding [sic] women to express themselves, and not being treated as equal to men".