Nail em all!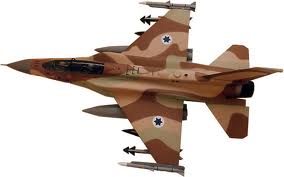 IAF strikes 9 additional sites in Gaza after rocket attacks on southern Israel
LAST UPDATED: 06/29/2014 04:18
Israeli F-16 fighter jet. [File] 

Photo: REUTERS
The IDF attacked 12 targets in Gaza in two waves of air strikes overnight between Saturday and Sunday. In the second wave, the air force hit nine targets, including weapons production centers and underground rocket launchers in central and southern Gaza.
Some targets were marked ahead of time as "heavier targets," a senior security source said Sunday. "We are weighing events in Gaza. We are looking at activating additional steps," the source stated. Rocket attacks are coming from smaller Gazan terror groups, such as Popular Resistance Committees, but are not being launched by Hamas directly, he said.