Erdogan seen nodding in approval.
Turkey's slide into the Islamic sewer started ages ago with the sickness and eventual death of Ataturk.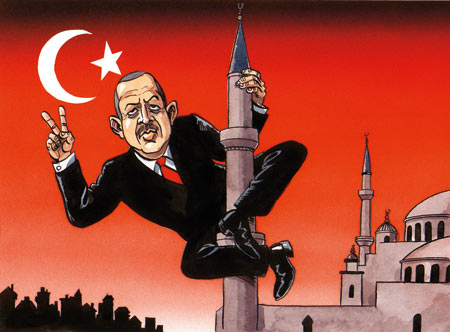 Sharia Turkey: Islamic supremacists distribute brochures on beach telling women to cover up
There is a hint of menace to this morality initiative, for the recipients of the brochure know that if they don't comply, some Muslims may think that killing them is preferable to the continued affront to their honor that their immoral dress represents.
Re-Islamization of Turkey Update: "Islamists hit beach to advise women to cover up," Hürriyet Daily News, June 25, 2014 (thanks to Twostellas):
Turkish holiday goers flocked to beaches and resort towns last weekend, as the summer holiday season kicked off. However, in the Black Sea resort of Kaynarca northwest of Istanbul, those who headed to the beach were also joined by a group of traditionally pious Muslims, who flocked to the seaside in order to convince women to cover themselves.