This is how a society collapses.
H/T Scottish Infidel
FM: Zero tolerance to demonisation of Scots Muslims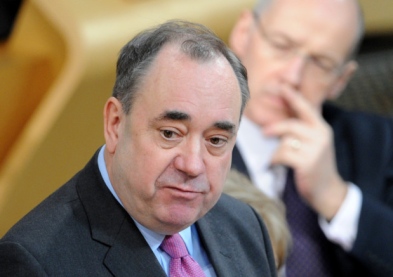 Published: 26 June 2014
First Minister Alex Salmond has pledged a 'zero tolerance' approach to the demonisation of Scots Muslims. Picture: Jane Barlow
114 comments
By SCOTT MACNAB
SCOTLAND'S authorities will take a "zero tolerance" approach to attempts to demonise Muslims after an Aberdeen man appeared in a terrorist recruitment video, Alex Salmond said today.
The First Minister told MSPs that police are "actively monitoring" the threat of radicalisation in Scotland after the video, There Is No Life Without Jihad, emerged on Friday. It was posted by accounts linked to Isis and featured Abdul Rakib Amin, 25, who was raised in the Granite City.
North East MSP Kevin Stewart said the video "shocked" the city's Muslim community during First Minister Questions today and said the actions of one individual should "not reflect an entire community"
Mr Salmond said: "I wholeheartedly agree with that as I believe the whole chamber agrees with that.
"The purpose of extremism is to seek to divide communities. Radicalisation is something that we have been and continue to be vigilant about.
"Police Scotland have been very active in monitoring that, but also active of course in engaging with and building strong relationships with the Muslim community.