Or as I like calling it (h/t Debbie Schlussel) Alien vs. Predator.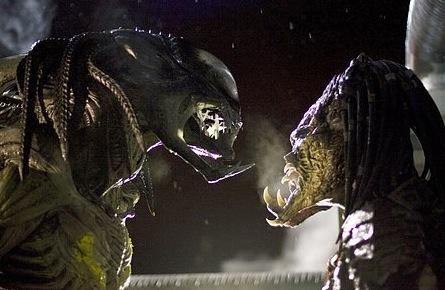 Al-Qaeda-affiliated group warns Hezbollah of more attacks 
June 24, 2014 07:02 PM The Daily Star
Lebanese soldiers inspect the site of the explosion in Tayyouneh, Tuesday, June 24, 2014. (The Daily Star/Mohammad Azakir) BEIRUT: The Abdullah Azzam Brigades announced Tuesday that explosions in Beirut's southern suburbs were a series of many attacks to come as long as Hezbollah was fighting in Syria, in an indirect claim to Monday's suicide attack that killed one and wounded 25.
Sheikh Sirajeddine Zuraiqat, the Al-Qaeda affiliated group's religious guide, tweeted that the recent targeting of General Security head Maj. Gen. Abbas Ibrahim and the explosions in the southern suburbs confirmed that "you [Hezbollah] will not be living safely, until safety is returned to the people of Syria and Lebanon."
A suicide bomber killed a security officer and wounded 25 people in a midnight attack in the Beirut neighborhood of Tayyouneh, intending to carry out the bombing in the capital's southern suburbs, which had witnessed a series of explosions at the beginning of this year and the end of last year.
A suicide bomber also blew himself up last week at a police checkpoint on the Beirut-Damascus highway in Dahr al-Baidar, killing one police officer and wounding 32 people.
Ibrahim said he narrowly escaped that attack after the blast went off just 200 meters away from his convoy.
According to Zuraiqat, Hezbollah "brought trouble" on itself through its "adventures in Syria." He also tweeted that "the battle with Hezbollah is no longer only against us, but with the Sunnis in Syria and Lebanon."
Read more: Fjordman