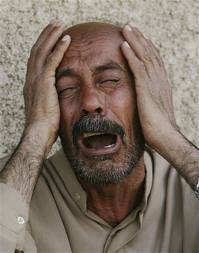 Iraq crisis: Islamist militants attack Tikrit and near Baghdad after 500,000 are forced to flee Mosul
Extremists capture another major city as government forces disintegrate
Sunni insurgents advancing on Baghdad after taking Mosul have captured the city of Tikrit, the home town of Saddam Hussein, as government forces disintegrate and fail to offer resistance. Iraqi soldiers and police are reported to have discarded their uniforms, changed into civilian clothes and fled after firing only a few shots.
The offensive led by the fundamentalist Islamist group Isis appears to be turning into a general uprising by Iraq's Sunni Arab community that lost power when Iraq was invaded by the US and its allies in 2003. Militants from Isis have taken the refinery town of Baiji on the Tigris, which is also the site of a power station supplying Baghdad. Some 250 guards protecting the refinery withdrew after militant fighters asked local sheikhs by mobile phone to tell them to pull out or face a fight to the death.
In Mosul, Isis has been seeking to reassure the local population by knocking on doors to tell people they would not be harmed and asking government employees to return to work. Many of those who fled towards Kurdistan when the city fell have returned as the Kurds would not allow them to enter Kurdistan Regional Government (KRG) territory.
More here. Via Drudge Report
Egyptian army soldier killed in North Sinai attack
One death and two injuries from militant attack on Wednesday in Al-Arish, says military spokesman
Ahram Online , Wednesday 11 Jun 2014
File photo: Egyptian army tanks in North Sinai in 2012 (Photo: Reuters)
A soldier was killed and a low-ranking officer and a civilian were injured in a militant attack in the North Sinai town of Al-Arish on Wednesday, according to army spokesman Ahmed Ali.
The killed soldier has been identified as Lotfy Ateyya, said the spokesman.
Around 500 policemen and soldiers have been killed in bombings and shootings, according to a government tally, since the ouster of Islamist president Mohamed Morsi in July 2013.
Hundreds killed as ISIL insurgents gain ground in east Syria
BEIRUT Tue Jun 10, 2014 7:15am EDT
(Reuters) – A six-week offensive by the Islamic State in Iraq and the Levant (ISIL) against rival Islamists in eastern Syria has killed 600 fighters and driven 130,000 people from their homes, a monitoring group said on Tuesday.
ISIL, which is battling to control a huge area of east Syria and western Iraq, has advanced along the Euphrates River in the oil producing Deir al-Zor province, driving back militants from al Qaeda's Nusra Front and other Islamic brigades.
The Syrian Observatory for Human Rights said ISIL now controls most of the northeast bank of the Euphrates from close to the border with Turkey down to the town of Busayra nearly 200 miles (320 km) to the southeast.
It aims to extend that control all the way to the town of Albukamal on the Iraqi border, strengthening links between its Syrian and Iraqi wings, the Observatory's Rami Abdelrahman said.
Former Dearborn man wanted by FBI killed in Syria
Published: Tuesday, June 10, 2014
By Aysha Jamali
Faouzi Mohamad Ayoub, a former Dearborn resident, was killed in Syria while fighting to help its government, according to reports. | Photo courtesy of FBI
DEARBORN — A former Dearborn resident on the FBI's Most Wanted Terrorists list was killed in Syria, according to the Detroit Free Press.
Faouzi Mohamad Ayoub, 47, a senior commander with Lebanese militant group Hezbollah, died last week while fighting to help Syria's government, the Free Press reported.
The FBI, according to the article, is aware of the reports of Ayoub's death from a Twitter account connected to Hezbollah, which has been fighting in Syria to support President Bashar al-Assad, and news reports but did not confirm or deny them.
Ayoub was born in Lebanon and lived in Dearborn for several years after moving from Canada when he married a Detroit woman, according to the Free Press.
According to the FBI, he was indicted by the U.S. Attorney's Office Eastern District of Michigan on August 5, 2009, for using a forged U.S. passport to travel to Israel to conduct a bombing on behalf of Hezbollah.
Al-Qaeda gunman kills Yemen soldier in southern town

 Last updated: June 11, 2014
A suspected Al-Qaeda gunman killed a soldier in a Yemeni provincial capital on Tuesday, bringing the death toll in the southern town of Huta to three in as many days.
The soldier was shot dead at a checkpoint in the town, capital of Lahij province, a security source said.
Tensions have run high in Huta since a wave of arrests targeting suspected Al-Qaeda militants prompted a Sunday assault on the police station where they were being held, killing a soldier.
Lahij province is home to the Al-Anad air base, north of the main southern city of Aden, where Yemeni officials have said Washington has personnel deployed gathering intelligence for its drone war against Al-Qaeda.
Sudan army says 110 rebels killed in South Kordofan
Khartoum (AFP) – The Sudanese army said it killed 110 rebels as it repelled an assault in South Kordofan state on Monday, although the insurgents denied the death toll.
Four soldiers were also killed, said a statement from the military which rarely gives assessments of victims in its conflict with the rebels of the Sudan People's Liberation Movement-North (SPLM-N) in South Kordofan.
The SPLM-N confirmed the attack but denied that 110 of its fighters were killed, reporting just three dead and 15 wounded among its ranks.