Deep down, we all knew it would happen, didn't we?
Vlad says: This is the speech the pope was waiting for:
Vlad has video of course: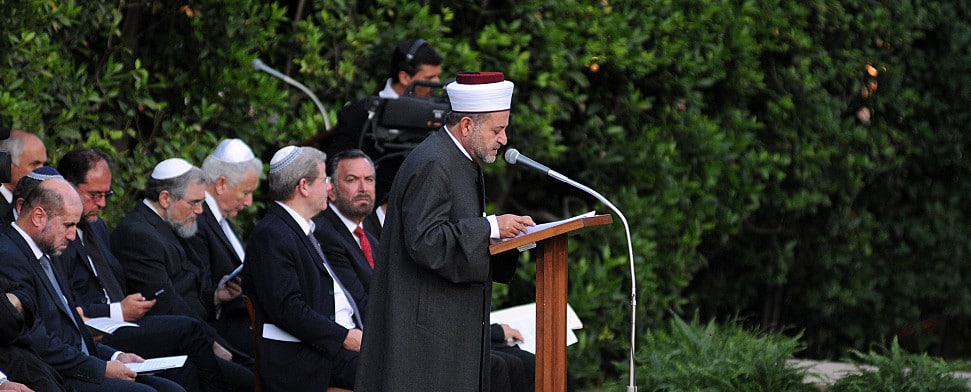 WDTPRS – What does the Prayer Really Say?…
Did the Muslim Imam at the Vatican's Prayer for Peace pray for "Victory over the Infidels"?
Don't you hate it when that happens? You're hosting a big interfaith peace event with Jews, Muslims, and "Christians", and then the Muslim imam ad libs the text he had previously submitted and adds a prayer for "victory over the infidels." Bummer!
Is this what happened on Pentecost Sunday in the Vatican Gardens?
We're not entirely sure. A controversy has erupted in Europe over this. According to Egyptian-German political scientist, historian, and author Hamed Abdel-Samad, who could be described as the Modernist version of a Muslim, the Islamic clergyman who offered the "prayers for peace" in the Vatican on Sunday (our coverage here) did not stick verbatim to the prepared text of the prayers as published beforehand, but instead ended with a quotation from the last verse of Sura 2 in the Koran, which reads, "You are our protector, so give us victory over the disbelieving people" (source). The "disbelieving people" can alternatively be rendered "unbelievers" or "infidels." In any case, what is meant is victory over people who are not Muslim.
Practically no one in the Vatican understands Arabic, but, not unexpectedly, Vatican Radio has already denied Abdel-Samad's claim. "Fr." Bernd Hagenkord, SJ, editor at the German-speaking offices of Vatican Radio, says the claim that the Muslim cleric ended his prayer with a quote from the Koran or with a petition against infidels is "nonsense" (source here — in German but further down includes English translation of all prayers "verbatim as prayed", allegedly).