One more piece of human excrement not coming back to Finland.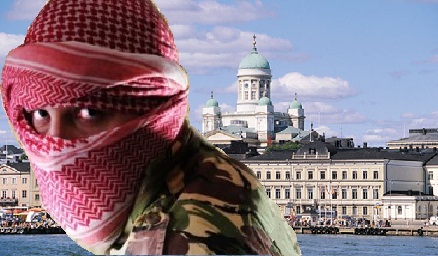 Some years ago the claim of Somalis in Finland heading to fight the jihad in Somalia, was dumped on by the Finnish fake media, it was however true then, as it is now, this time they've shifted their gaze from Somalia, and are fighting in Syria. That Somalis (and other tards) in Finland are engaged in the jihad, should trouble every single Finn.
HS: Finnish fighter killed in Syria
If the death is confirmed, the Somali-born 23-year-old would be the third Finnish citizen to die in the fighting in Syria, the paper says.
A man from Espoo who went to fight in Syria has died there, the daily Helsingin Sanomat reports on Monday.
According to the paper, one of the man's relatives has confirmed that his mother received word that he had died in Syria.
The newspaper says the man was of Somali background and moved to Finland at the age of two, adding that he went to Syria in December 2012.
Helsingin Sanomat says that if the death is confirmed, he would be the third Finnish citizen to die in the fighting in Syria. It estimates that some 30-40 people have gone to the war-torn country from Finland, either to fight or provide assistance.
Finland's Security Intelligence Service (Supo) could not confirm the 23-year-old's death.
"We do know that such information has been passed around," Supo communications director Jyri Rantala told Helsingin Sanomat. Rantala recently took over the post after more than 20 years as an Yle reporter.