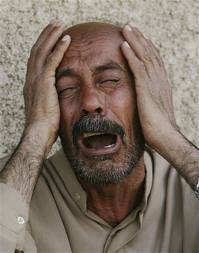 Smugglers 'kill six Egyptian guards' near Libya border
Six Egyptian border guards have been killed in a clash with a group of smugglers in a mountainous region near the Libyan border, the military says.
The smugglers attacked the patrol in retaliation for a crackdown, according to the Facebook page of Egyptian military spokesman Ahmed Mohammed Ali.
Egypt has been trying to prevent Libyan weapons and fighters from reaching Islamist militants in the Sinai.
Both countries have been grappling with unrest since the uprisings of 2011.
Libya's government has struggled to restrain the heavily armed militia groups that helped drive former president Col Muammar Gaddafi from power.
Meanwhile, instability in Egypt has strengthened support for the former military chief, Abdul Fattah al-Sisi, who secured a landslide win in a presidential election last month.
Syria crisis: British man 'killed during battle'
A British man has been killed in fighting in Syria, reports say.
He was named as Abu Daigham al-Baritani or Abu Daigham al-Britani – the suffix adopted by those who have travelled from the UK to fight in the country.
He is said to have been part of the Rayat al-Tawheed, a group of British combatants linked to the rebel Islamic State of Iraq and the Levant (ISIS).
A statement apparently issued on the Rayat al-Tawheed Instagram account said the man was killed "a few nights ago".
The Foreign Office said it was unable to confirm the death.
Jonathan Kay: The murder of Dr. Mehdi Ali Qamar symbolizes Pakistan's descent into self-annihilation
Jonathan Kay | June 3, 2014 | Last Updated: Jun 3 12:39 PM ET
Family photo
Dr. Ali Qamar, a Cardiologist and member of the Ahmadi sect, who practiced medicine in Columbus, Ohio, was in Pakistan as a volunteer at a local heart clinic when he was murdered.
Tomorrow, Dr. Mehdi Ali Qamar — the Canadian/American doctor who was assassinated last month in front of his wife and child, while he was performing a humanitarian mission in Pakistan — will be buried at Maple Cemetary in Vaughan, Ont. His funeral has become a major rallying point for members of the Ahmadi Muslim community — which flourishes here in tolerant Canada, but which is murderously persecuted in Pakistan (that supposed national refuge for South Asian Muslims).
In fact, the tragedy of Mehdi Ali Qamar's murder serves as a sort of microcosm for the agony of Pakistan's self-destruction as a functioning national entity, and it's transformation into a base for the most violent and bigoted elements within Islam.
The Ahmadiyya movement originates with the 19th-century prophet Mirza Ghulam Ahmad, whose teachings challenge the mainline Islamic taboo against prophecies that purport to supplement or modify the teachings of Muhammad. Much as Mormons and Jehovah's Witnesses are rejected by doctrinaire Christians for their analogous belief in 19th-century prophet figures, Ahmadis are viewed by Muslim fundamentalists as outright "heretics."
Libya fighting: 18 killed in Benghazi
At least 18 people have been killed in intense fighting in eastern Libya, medics say.
The fighting started when Ansar al-Sharia militants attacked forces loyal to renegade General Khalifa Haftar in Benghazi, who hit back with airstrikes.
Benghazi is at the centre of a two-week long campaign by Gen Haftar's forces against Islamist armed groups.
The government in the capital Tripoli has condemned the campaign, calling it an "attempted coup".
It is not known whether the casualties from Sunday night's fighting are military or civilian, but both sides have accused the other of firing indiscriminately in residential areas.
Dozens were also reported injured in the neighbouring city of Al-Marj.
While Libya and in particular Benghazi has been plagued with violence since the uprising against Muammar Gaddafi, the latest fighting has been particularly ferocious.