This is classic Obama.
What would result in an automatic call for impeachment for anyone else, is now just chalked up as one more disastrous move by this president.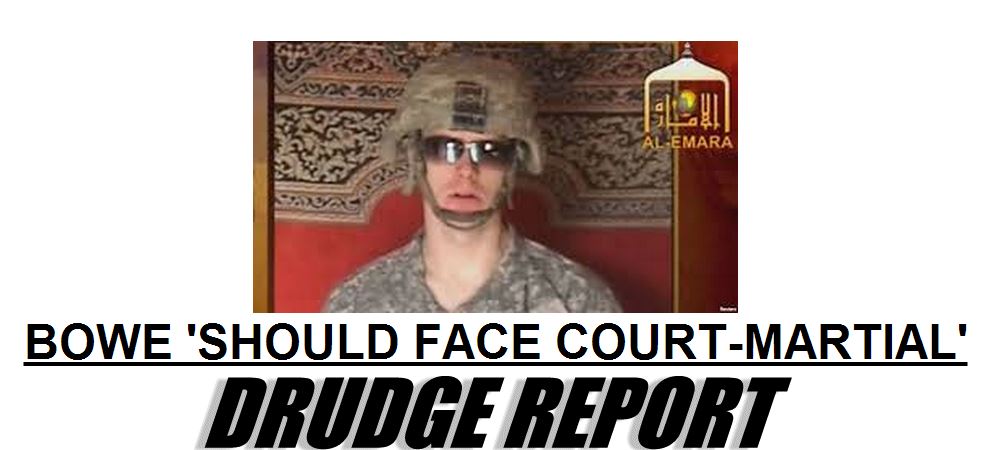 'He willingly deserted': Freed POW's former platoon-mates call for him to face COURT-MARTIAL as they reveal how he left post. Army made comrades sign gagging orders
Specialist Cody Full, 25, says Bowe Bergdahl is 'a deserter at best, and a traitor at worst'
Specialist Gerald Sutton, 31, calls the newly rescued infantryman's decision to desert his unit 'premeditated'
Both men, who served with Bergdahl in Afghanistan, say he should be hauled into a military court to face the music
'He's not a hero. He's not a good example,' Full told MailOnline

'This might be kinda severe,' Sutton said, 'but for desertion in time of war, the penalty can be up to death'
Bergdahl's life has been under a microscope, with most accounts describing a soft-hearted infantryman who cared more for the Afghani people than he did for his Army mission
But Full says his odd demeanor also had a more worrisome side: Bergdahl asked one Army squad leader if he would be allowed to wear the face of his first Taliban 'kill' as a mask
Other platoon-mates of Bergdahl have told how they were asked to sign non-disclosure agreements by the army after he was captured

Two former comrades of U.S. Army Sgt. Bowe Bergdahl have confirmed to MailOnline that their former platoon-mate walked away from his post in Afghanistan on June 30, 2009 with the intention of reneging on his military oath.
'I'm positive that he's a deserter, and that it was all premeditated,' said Gerald Sutton, a 31-year-old Michigan college student who left the military in September 2012 and said he was 'a good friend' of Bergdahl when they were deployed to the Middle East.
A Pentagon investigation established in 2010 that on that Tuesday, Bergdahl abandoned his platoon in a war zone near the Pakistan border while serving with the 1st Battalion, 501st Parachute Infantry Regiment, 4th Brigade Combat Team, 25th Infantry Division.
The Idaho native's disappearance led to an all-hands-on-deck manhunt in Afghanistan's Paktika Province, as thousands of troops were diverted to rescue a man who left the safety of his outpost with his eyes open.
'He wasn't out on some patrol one day and got captured by the Taliban, and nobody smuggled him off of the base,' explained Cody Full, a 25-year-old former infantryman who spoke with MailOnline from Houston, Texas.
Full, too, was in Bergdahl's unit. And he's anguished at the thought that at least six soldiers died on missions to find him in the early, frantic months after he went missing.
'This soldier knew what he was doing,' Full said. 'He left us. He willingly and premeditatedly deserted his comrades. And he put his team, his squad, his platoon, his company, and thousands of other American soldiers in Afghanistan at a very high risk trying to find him.'
'If he didn't desert, and he was still in the platoon, those soldiers would not have been in the locations where they were killed … because they wouldn't have been out there looking for him.'
Sutton said he 'felt like I was in immediate danger all the time' after Bergdahl left. 'All of us did. We were sent out for about 30 to 35 days straight looking for him.'