They are all head thumpers regardless of the suits and ties.
Inclusion of Hamas just makes it over -the-top official, Islamonazis run the P.A., and the Obama led U.S. is on their side promoting them.
President Abbas swears in Palestinian unity government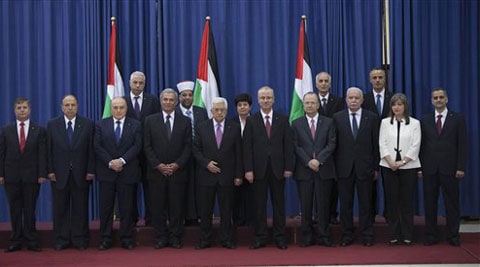 "Today, we declare the end of the split and regaining the unity of the homeland and the institutions," Abbas said. (Source: AP)
Palestinian President Mahmoud Abbas swore in a unity government on Monday, taking a major step toward ending a crippling territorial and political split with the rival Hamas militant group but also setting the stage for new friction with Israel.
The brief ceremony at Abbas' West Bank headquarters was preceded by last-minute haggling over the makeup of the 17-member Cabinet of technocrats, signaling continued tensions between the long-time rivals.
The Islamic militant Hamas, which seized the Gaza Strip from Abbas' Fatah in 2007, had demanded that he reverse a decision to remove the position of minister of prisoner affairs from the government. Hamas officials announced just minutes before the start of the swearing-in ceremony that the dispute had been resolved, though the nature of the compromise was not immediately clear.
The formation of a unity government is the most significant step yet toward ending a political split that has weakened the Palestinian case for a state in the West Bank, Gaza and east Jerusalem, lands Israel captured in 1967.
After the 2007 takeover of Gaza, Hamas set up its own government there, leaving Abbas with only the autonomous areas of the West Bank. Abbas considered the loss of Gaza as a stain on his presidency.