Dr.Gerstenfeld's article on the global ADL survey was recently published in the magazine of the Jerusalem Post, and republished here with the author's consent.
The ADL Anti-Semitism Survey: Strengths and Drawbacks
Manfred Gerstenfeld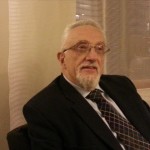 Results from the recent ADL global survey of anti-Semitism indicate that there are 70 anti-Semites for every Jew. Thus, if the world's billion-plus adult anti-Semites were living in a single country, it would be the third largest nation after China and India. This is even an understatement. Since their children would be included, that country would probably be the largest on earth.
The ADL should be praised for having undertaken such a major endeavor. The report provides much useful information. One of its important contributions is new key information about massive anti-Semitism in the Palestinian territories and greater Muslim world. This adds much to what was known earlier from several Pew Research surveys about hate-mongering there.
This study should however be quoted with great care if one discusses anti-Semitism in various countries, regions and religions. One of the key queries concerns its definition of anti-Semites. ADL pollsters asked eleven questions about anti-Semitic stereotypes. They then defined those who agreed with six of them as anti-Semites.
However, questions asked did not include: "Do you believe that Jews are apes and pigs?" This question is very relevant in Muslim environments. The Nazis claimed that Jews were sub-human. Anyone who believes that Jews are animals, has a similar extreme anti-Semitic mindset regardless of how he or she answers the eleven questions.
The same goes for another unasked question, which is mainly relevant in Christian environments: "Are Jews responsible for Jesus' death?" That belief laid the infrastructure of the 'satanic Jew' which in turn led to discrimination, pogroms and expulsions. The image thus created of the Jew as 'absolute evil' provided the base on which Nazism built further and afterwards led to the Holocaust. According to the ADL study, 9% of Americans are anti-Semitic. However, an ADL study from last year found that 26% of Americans believe that Jews killed Jesus.
Another important element to judge a nation's anti-Semitism by is the number of verbal and physical anti-Semitic attacks. This new study did not deal with that issue.
A larger problem is that no questions were asked about anti-Semitic attitudes regarding Israel. It is easy to prove that anti-Israelism is a relatively new form of anti-Semitism. Its main hate stereotypes are mutations of the older motifs of religious and nationalistic anti-Semitism. One only derives an indirect indication of the size of hatred of Israel from the 'positive' answers to the survey question: "Jews are more loyal to Israel than to the countries they live in." With 41% answering 'probably true,' this is the most believed of all stereotypes in the ADL study.
The exclusion of questions about anti-Israelism leads to a mistakenly positive view of European countries. The ADL Global Index puts Sweden as the third least anti-Semitic country among the 102 analyzed with 4% anti-Semites – after Laos and the Philippines. The 2013 European Agency for Fundamental Rights (FRA) study found that in eight E.U. countries surveyed, 60% of Swedish Jews see anti-Semitism as a big or fairly big problem. Thirty-seven percent of Swedish Jews said that anti-Semitism had increased greatly over the past five years, while 43% answered that it increased a little. Twenty-two percent had personal experiences of verbal insults or harassment and/or physical anti-Semitic attacks in the past 12 months.
Sixty percent of Swedish Jews never, or rarely wear anything in public which makes them identifiable as Jews. This was the highest percentage of any country in the FRA study. Malmö, the third largest town in Sweden, is often considered as 'Europe's capital of anti-Semitism.' This gives a very different picture than Sweden's 'benign' ranking on the ADL index.
The fourth least anti-Semitic country according to the ADL index is the Netherlands. A 2011 survey by the University of Bielefeld asked people in seven E.U. countries whether they agreed with – the extremely anti-Semitic statement – that Israel "is conducting a war of extermination against the Palestinians." Forty-three percent of those surveyed answered in the affirmative. In the Netherlands, the figure was close to 39%. The ADL study implies that there are less than 700,000 adult anti-Semites in the Netherlands. The Bielefeld study indicates that there are about 5 million!
The report's conclusion that in European Protestant countries anti-Semitism is low, seems doubtful. It is far more likely that in countries where the Holocaust took place or those close by, anti-Israelism has largely taken the place of classic anti-Semitism. Various Swedish and Norwegian Lutheran bishops are prominent anti-Israel hate-mongers. The major Norwegian YMCA and YWCA Christian youth movements recommend boycotting all of Israel and are among world leaders in these actions of hatred. Much Israel-hate comes out of the UK's Anglican and Methodist churches.
One can only hope that the ADL will continue to undertake similar surveys in the future and include issues mentioned above in their questions. In this way, a more realistic picture of global anti-Semitism will be obtained.
Dr. Manfred Gerstenfeld's upcoming book The War of a Million Cuts analyzes how Israel and Jews are delegitimized and how to fight it. He is a recipient (2012) of the lifetime achievement award of the Journal of the Study of Anti-Semitism.