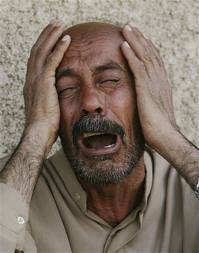 Official: Egyptian militant leader killed
(CNN) — Armed Sinai tribesman killed the head of an al Qaeda-inspired terror group on Friday, according to Egypt's state-run news agency.
MENA said that Shady al-Meniey, the 26-year-old chief of Ansar Jerusalem, died in a drive-by shooting in Egypt's volatile North Sinai. Three other militants also were killed.
Egypt's armed forces spokesman, Col. Ahmed Ali, told CNN that al-Meniey died, but provided no further details.
The Egyptian-based group has claimed responsibility for dozens of deadly attacks on civilian and government targets in Egypt.
CNN sought comment from Egypt's armed forces, but had yet to hear back.
22 Killed in Separate Violent Attacks across Iraq
TEHRAN (FNA)- Twenty-two people were killed and 24 others wounded in separate violent attacks across Iraq, police and medical sources said.
In Northern Iraq, gunmen broke into a house of a policeman in South of the city of Mosul, and shot dead the policeman, his brother and one of his relatives, before they fled the scene, a local police source told Xinhua on condition of anonymity.
In a separate incident, a car bomb went off near a police patrol in the Western part of Mosul, leaving two policemen and three passers-by wounded, the source said.
Meanwhile, gunmen opened fire on a police vehicle on a main road near the city of Baiji, some 200 km North of Baghdad, killing a police officer and a policeman, and wounding another, a local police said.
Al Qaeda gunmen storm Yemeni city, 27 people killed
ADEN, Yemen Sat May 24, 2014 3:13pm EDT
(Reuters) – At least 27 people were killed in an overnight raid by gunmen on a city in southeastern Yemen, residents and a local official said on Saturday, as al Qaeda fought back against a government offensive.
Armed with rocket-propelled grenades, mortars and explosives, attackers in Yemeni army uniforms drove in from the desert on 15 pickup trucks into Seyoun after detonating a car bomb at the entrance to the city in Hadramout province.
Al Qaeda in the Arabian Peninsula (AQAP) has carried out many hit-and-run attacks since the Yemeni army drove it from its southern strongholds in Abyan and Shabwa provinces last month.
Syria crisis: Mortars 'kill 20' at pro-Assad rally in Deraa
Mortar fire has hit an election rally in support of President Bashar al-Assad in southern Syria, killing at least 20 people, state media and activists say.
The attack happened as Assad supporters gathered in a tent in the city of Deraa on Thursday evening. President Assad was not at the event.
At least 30 people have been injured, the UK-based Syrian Observatory for Human Rights reports.
Syrians are due to vote on 3 June in an election branded a sham by the West.
The president is facing two other challengers, but he is widely expected to secure a third seven-year term in office – despite a brutal civil war now in its fourth year.
Thursday's attack happened in the al-Matar district of Deraa, said the Observatory, which relies on reports from a network of activists on the ground.