No way of knowing for sure if these were Muslim teens, but it really resembles traditional behaviour by many from that group. If I hear more on this I'll update this post.
UPDATE: Henrik R.Clausen found the following, one of the attackers was a Somali: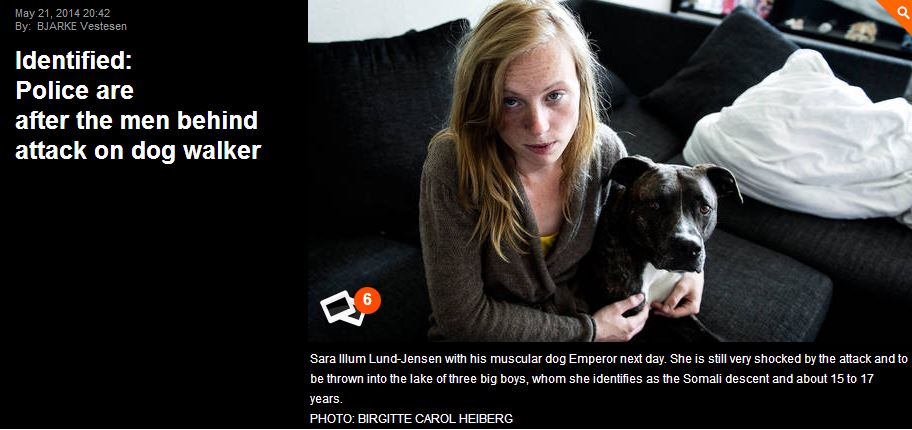 Sara took a walk with muscular dog and was thrown in the lake
23-year-old Sara says that she and the dog Kejser (Kaiser)   was attacked during evening stroll in Vollsmose
Stones thrown, punched, kicked and pushed – and ultimately a trip into the lake.
Thus ended Illum Sara Lund-Jensen's stroll with muscular dog Emperor in Odense Vollsmose Tuesday night.
The 23-year-old woman says she was out walking her five year old dog by a lake near Granparken when four teenage boys looked mad at the dog and owner.
First the teens asked questions about the Emperor's breed and age, but suddenly the curiosity turned to anger, she says.
– One began to kick out at Emperor, and it made me really mad. So was the one who threw a stone at us, which hit my dog, says Sara Illum Lund-Jensen to Ekstra Bladet.
She says that she tried to protect her dog against the aggressive boys. This brought herself in the firing line.
– They knocked me to the ground and started kicking me and rolled me into the lake. I was lying there so along with the Emperor, while they threw several stones at us.
Soaked and shaken
– They shouted at me that my dog is dangerous and that it is illegal, but it's not, she says of the dog that is a mix of amstaff and Labrador.
The four teens left the next place, after which an elderly woman helped her out of the water.
More here. H/T Vlad