What they left out is that they're crestfallen it hasn't worked.
I predict however, that the establishment parties, after receiving a drubbing in the upcoming fake EU parliamentary elections, will cease their verbal attacks on Farage and heart UKIP's talking points, then carry on with the same policies as before after they retake some or most of their votes, and hope to outlast UKIP's protest vote phenomenon. The big question here is whether the UK manages to jettison itself from the EU, and whether the status quo political forces that be, are able to cunningly outfox the fox himself, Nigel Farage.
H/T: Gaia
Farage attacks backfire on Labour and Tories
Attacks have confirmed Ukip leader as anti-establishment candidate, according to telephone polling and focus groups
Patrick Wintour

, 

Rowena Mason

 and 

Nicholas Watt

The Guardian,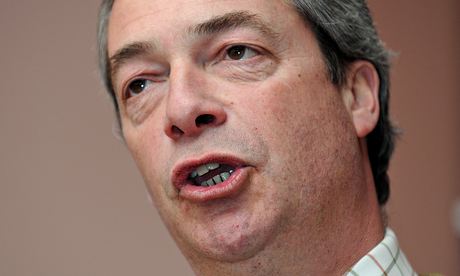 Labour and Conservative polling is showing that attacks claiming Nigel Farage is a racist have backfired since voters do not regard him as such and see the assaults as a sign members of the political establishment are ganging up to undermine him.
The apparent backlash is coming to both parties from telephone polling and focus groups, which say that the attacks have raised Farage's profile and confirmed him as the anti-establishment candidate. It does not tally with published opinion polls that show the Ukip lead in the European elections narrowing slightly.
One source said: "Calling people names does not work. It confirms the old politics."
The findings on the penultimate day of campaigning before Thursday's European and local elections are especially acute for the Labour party, which has been locked in an internal battle about how aggressively to attack Farage. Ed Miliband has studiously not called him a racist and tried instead to offer policy solutions to the issues driving the Ukip vote. Other strategists within the party are arguing that only a more direct attack will bear fruit with traditional Labour voters.
The row over whether Ukip is racist spilled into the streets on Tuesday when Farage failed to attend his own mini-street carnival in Croydon, south London, after it descended into bitter rows and one of his local candidates, Winston McKenzie, described the area as an unsafe "dump".