Force feeding Americans with Obamacare has its consequences.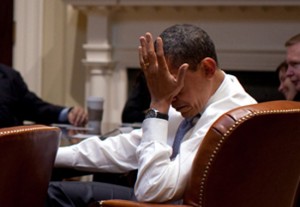 For this to be really good news, the void can't be allowed to be filled by GOP big government supportive RINOS.
POLITICO POLL: ELECTION DISASTER LOOMS OVER DEMOCRATS
A devastating new Politico poll released on Monday shows likely voters in key 2014 midterm election races favor a Republican candidate over a Democrat by seven points. Driving Democrats' electoral descent is the unpopularity of President Barack Obama and his signature legislative achievement, Obamacare.
"Among these critical voters, Obama's job approval rating is a perilous 40 percent, and nearly half say they favor outright repeal of the Affordable Care Act. Sixty percent say they believe the debate over the law is not over, compared with 39 percent who echo the president's position and say the ACA debate has effectively concluded," reports Politico's Alexander Burns.
The poll found that Obamacare overwhelmingly remains the issue driving voters. Nine out of ten individuals surveyed said Obamacare is an important factor determining their vote, and 49% said the health law would be "very important." By comparison, those who said immigration and salary differences among genders were "very important" polled at 28% and 16% respectively.