I've never heard of this happening in churches or synagogues.
It's just one of the many reasons why I wouldn't want one springing up in my area.
H/T: EDL Buck
Muslim leader bashed as battle over mosque worsens
11:54 AM Saturday May 17, 2014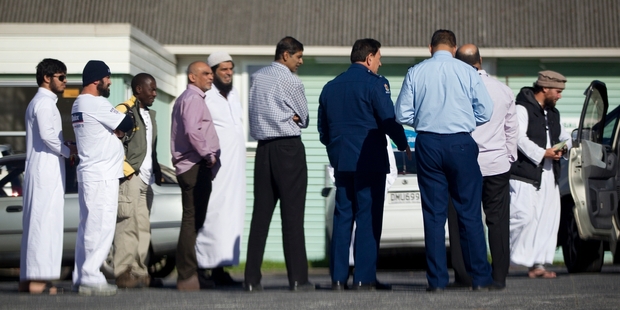 Police speak to witnesses after an incident outside the Avondale Islamic Centre yesterday.
A man is in hospital with serious injuries after he was beaten up at an Auckland mosque.
Haider Lone, immediate past president of the NZ Muslim Association and administrator of the Avondale Islamic Centre, says he fears for his life as he believes the attack was an assassination attempt.
Yesterday, police and security were again called in as ugly scenes erupted at the Blockhouse Bay Rd mosque where two Islamic factions are fighting for control.
Security officers had to intervene to stop a worshipper from using a weapon to attack another man who turned up at the mosque border despite having been trespassed.
New Zealand Police Superintendent Wally Haumaha, who went to the centre after the incident, said police were working with the parties towards a "peaceful solution".
The centre's imam Sheikh Abu Abdulla, 50, was trespassed along with his sons and some supporters on May 6.
Mr Lone was bashed the next evening, resulting in fractures, broken bones and severe injuries to the eyes.
Mr Haumaha confirmed that police were investigating a complaint involving an assault on an individual.