It never ceases to amaze me, how morons such as Scott Stephens can ever find the floor in the morning. More likely their feet smack against the wall and they slide down.
H/T: Sheik Yer'Mami (pbuh)
Total crackpot.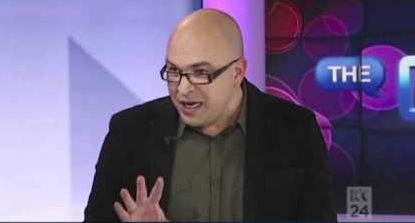 Unhinged preacher man calls Andrew Bolt "mad", "lunatic", "maniacal" and "idolatrous"
Some churchmen seem to be afflicted by a disease similar to hydrophobia in a dog:
On being denounced for blaspheming against Islam and Waleed Aly
Scott Stephens, religion editor for ABC Online, is a former Uniting Church minister.  You'd expect him to preach a milksop peace, reconciliation and love of even our enemies.
But Stephens has just published an astonishing paroxysm of abuse – a true shock-jock sermon.
He has found a heretic so evil – guess who – that he denounces this Beelzebub as not just "mad", "lunatic" and "maniacal" but "idolatrous".
Idolatrous?  Now there's a word we don't hear much these days in a culture unmoored from its religious foundations.
So which faith have I wickedly blasphemed against with what Stephens calls my "pseudo-intellectual thuggery", "vulgar generalisations" and "desiccated reason"?
Well, it's not Christianity, of course. No violence against that faith ever prompts a Uniting Church minister, past or present, into this kind of vilication.
No, my sin is, of course, against Islam, which Scott rapturously praises as embracing "conscientious humility, the devout hesitation before the inscrutability of the Divine". My sin is particularly against that faith's great new preacher, an ABC presenter who Stephens says speaks "against the idolatry in one's own heart".
This preacher, Waleed Aly, was born in a land so distant from his father's home in the Middle East, and Stephens says his "very presence, prominence even, in the Australian media is enough to give the most despondent among us hope" .
And in case you didn't get the Messiah allusions in Stephens' text, the ABC has published an accompanying photo-shopped picture showing Aly, former spokesman of the Islamic Council of Victoria, with blood pouring from wounds on his head, as if I'd pressed down with particular force a crown of thorns. (See above.)