The hijab is a political symbol with religious trappings. Islam is a totalitarian political ideology with religious trappings, both need to be opposed.
Also, here's a rare flying pig moment. The Swedish queen and another female inside a mosque in Sweden, not wearing the head scarf, proof that non-Muslim females are not required to wear them.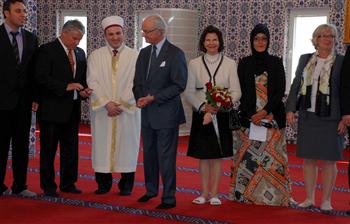 'I loathe the hijab. I too like the feel of the sun and the wind on my hair. Is this a big sin?': Iranian women go bare-headed on Facebook in defiance of country's strict Islamic laws
Dozens have ditched headscarves on Stealthy Freedoms of Iranian Women
They have done so in defiance of the country's strict laws
Women in Iran can be fined or even imprisoned for not wearing a headscarf

It's illegal for women in Iran to appear in public without wearing a headscarf – or hijab – but dozens have posted bare-headed photographs of themselves to a Facebook page called Stealthy Freedoms of Iranian Women.
Punishment in Iran for not wearing a hijab ranges from a fine to imprisonment, but despite the risks around 150 photographs have been uploaded to the site, which at the time of writing has over 140,000 likes.
The photographs show women in huge variety of places and poses.
Defiance: Over 150 Iranian women have posted bare-headed pictures of themselves on Facebook
Read more: H/T: EDL Buck