Imitating their prophet in every way.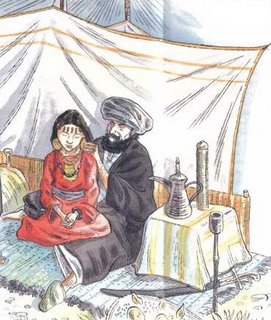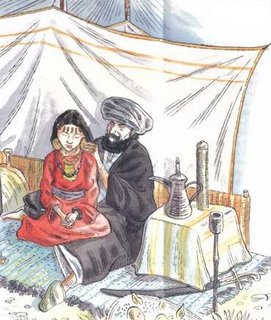 Yemen's child brides
Girls, sometimes as young as eight, are forced into marriages with men decades older. Anthea Ayache speaks to campaigners fighting for the introduction of minimum marriageable age
Nujood Ali caught the world's attention when, at age 10, she managed to get a court to grant her a divorce.
Nujood Ali was once just like any nine-year-old girl – happy, cheerful and carefree. She loved school, had
 big dreams of studying and having a career, and in her spare time she could be found playing with her 
15 doting siblings. Although times were hard as slum dwellers in the Yemeni capital Sana'a, and the family often fell asleep hungry on the cold floor of their two-roomed home, Nujood maintained an innocence typical of youth, even when it was proclaimed that, against her will, she was to be married.
With childlike naivety, Nujood took the preparations and procedures for her wedding, held in February 2008, lightly. Basking in the attention and enchanted by the gifts, the little girl embraced the role of playing the grown-up, pouting for lipstick and posing in her freshly laundered hijab.
But what she considered to be simply dressing up, would in fact prove to be a nightmare, an event brought on by a typical Yemeni everyday act on her father's behalf.
Former Sana'a street sweeper, Ali Mohammad Al Ahdel, a father of 16, had accepted a dowry of approximately $250 (Dh920) and in return had promised his daughter as a bride to Faez Ali Thamer, a delivery driver in his 30s; more than three times Nujood's age.
– See more at:  H/T: Fjordman