It should have been like this.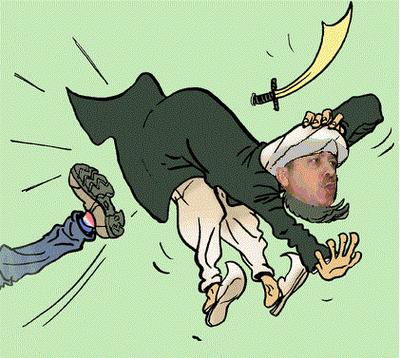 Perfect example why Muslim countries can never be expected to have a free and democratic society, that respects diversity of thought and opinion, and yes, the giving of offence. It's yet another example of how Finland behaved in the case against Finnish MP Jussi Halla-aho, where the state became "offended" over the words by the MP, in regards to making a strong, intellectual point, over how the state is treating both host and minority groups differently. Truth in that case was of no relevance to the court.
Turkish PM Erdoğan storms out of Council of State speech over 'rudeness'
ISTANBUL – Hürriyet Daily News
Prime Minister Erdoğan walked out before Metin Feyzioğlu, the head of Turkey's bar association, finished his speech.
Prime Minister Recep Tayyip Erdoğan stormed out of a speech delivered by Turkish Union of Bars head Metin Feyzioğlu, accusing Feyzioğlu of being "rude" in a speech criticizing the government's performance.

"What you're saying is wrong," Erdoğan said near the end of the speech by Feyzioğlu, who was speaking on the occasion of the 146th anniversary of the establishment of the Council of State in Ankara.

"What am I saying that is wrong, Mr. Prime Minister?" Feyzioğlu asked in reply, prompting Erdoğan to angrily respond: "This kind of rudeness is impossible."

"I'm not the one who's being rude, Mr. Prime Minister," the bar head then said.

Erdoğan became incensed over Feyzioğlu's criticizing of the government's failure to provide permanent settlement to some survivors of the 2011 Van earthquakes. He stressed that many people were still living in rudimentary conditions in shipping containers.