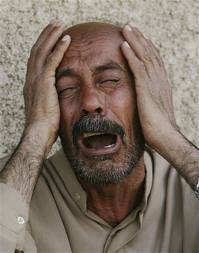 Nine Pakistan soldiers killed in Waziristan bombing
At least nine Pakistani soldiers have been killed and several critically injured by a roadside bomb in North Waziristan, the authorities say.
Local officials told the BBC that a paramilitary Frontier Corps truck had been targeted by a remote-controlled device in the tribal agency.
The vehicle was travelling near the Afghan border in an area which is a hotbed of Taliban activity.
The attack comes amid Pakistani peace moves with the militants.
There was no immediate claim of responsibility for the attack. An army spokesman told the BBC that the bomb was planted by "terrorists" but did not refer to any specific group.
The incident took place about 35km (20 miles) north of Miranshah, the main town in North Waziristan. The truck was travelling from Miranshah to Gulam Khan.
Five killed in fresh Taliban infighting
– File photo
MIRAMSHAH: Five militants were killed and three injured as clashes between two factions of the proscribed Tehreek-i-Taliban Pakistan (TTP) continued in North Waziristan Agency on Wednesday, sources said.
The fighting erupted between the groups led by Sheher Yar and Khan Said alias Sajna in Shawal, a mountainous area near Afghan border, on Tuesday.
The sources said that the militants killed on Wednesday were from the Sheher Yar group.
Rockets and mortars were used in the fighting, they said, adding that 14 people were killed on Tuesday.
Al Qaeda-linked militants killed by Yemeni security forces
May 9, 2014 — Updated 1823 GMT (0223 HKT)
(CNN) — At least 11 "al Qaeda terrorists" were killed by security forces in Yemen on Friday, two Yemeni Defense Ministry officials told CNN.
The officials said the action occurred in Abyan and Shabwa provinces.
Also Friday, three militants and four Yemeni security troops were killed in a gunfight in the country's capital, Sanaa, two Yemeni Interior Ministry officials said. Information about what group the militants belonged to wasn't immediately available.
This comes nearly three weeks after Yemen's government launched a military offensive against al Qaeda in the Arabian Peninsula.
An al Qaeda explosives expert from the Russian republic of Dagestan, Tamoor al-Daghestani, was among those who were killed by security forces in the province of Shabwa, a military source said, according to the ministry's official newspaper, 26 September Net.
Yemen's crackdown killed more than 60 suspected al Qaeda militants in the country from April 19 to April 21, Yemeni officials have said. Twelve more were killed on May 1, according to a high-level Yemeni government official.
South Sudan: Civilians killed and raped as ethnically-motivated violence spirals and famine looms
Rev Thomas Agou by the mass grave of 18 women killed by opposition forces in and around St Andrew Cathedral in Bor in January 2014.
A new investigation into the conflict in South Sudan has revealed horrific atrocities committed by both parties to the conflict, with ethnically motivated attacks on civilians constituting war crimes and crimes against humanity, Amnesty International said in a report released today.
Nowhere Safe: Civilians Under Attack in South Sudandocuments first-hand accounts from survivors of massacres, victims of sexual abuse, and witnesses to a conflict that has forced over one million people to flee their homes and driven the world's youngest country to the brink of a humanitarian disaster.
Foreign Office investigates reports Britons killed in Syria
Reports that two British nationals have been killed fighting in Syria are being investigated by the Foreign Office.
The Britons are believed to have been fighting for the al-Qaeda-linked Islamic State in Iraq and the Levant (ISIS), according to extremism expert Shiraz Maher, of King's College London.
The Foreign Office reiterated its warning that anyone travelling to Syria would be exposed to "serious risk".
Up to 20 men from Britain are reported to have died in the conflict so far.
Terrorist groups
Mr Maher, senior fellow at the International Centre for the Study of Radicalisation at King's College, said on Twitter: "It appears two British citizens have died in Syria while fighting for ISIS."
He said the men had been fighting another jihadist group, Jabhat al-Nusra, when they died.
A Foreign and Commonwealth Office (FCO) spokesman said: "We are aware of reports and are looking into them.
"For some years FCO travel advice has advised against all travel to Syria, and all UK consular services in Syria were suspended some time ago. We continue to advise all British nationals in Syria to leave by whatever means.
Iraq forces launch assault near Fallujah, 11 killed
Local militiamen fighting insurgents alongside Iraqi government forces take position on the outskirts of Fallujah, west of Baghdad. — Photo by AFP
BAGHDAD: Iraqi forces launched an operation Friday to retake areas near the militant-held city of Fallujah in preparation for an eventual assault, a senior officer said, as violence killed 11 people.
Anti-government fighters have held Fallujah, just a short drive from Baghdad, and shifting parts of Anbar provincial capital Ramadi, farther west, since early January.
"A military operation was launched… to eliminate the ISIL organisation and liberate Fallujah," a senior army officer said, referring to powerful group the Islamic State of Iraq and the Levant.
"The operation will continue until an assault on Fallujah," the officer said.
But such an assault is unlikely to occur soon, as security forces have struggled all year to retake territory in Anbar from militants.