As long as they keep allowing followers of that highly destructive ideology into Canada, then yes, he's pretty much on target.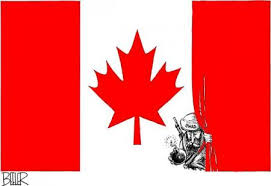 Jihad becoming 'as Canadian as maple syrup' says Calgary man who joined armed extremists in Syria
Todd Korol for National Post
Downtown 8th & 8th Musallah, the storefront Islamic centre in Calgary where Abu Dujana al-Muhajir said he started a pray

er group.
A Canadian foreign fighter in Syria taunted the "evil, despotic and Zionist Harper government" on Wednesday, claiming it was losing the battle against extremism and that fighting jihad was becoming "as Canadian as maple syrup."
In a blog post, Abu Dujana al-Muhajir, part of a small circle of Calgary youths who left for Syria to join armed extremist groups, said "so-called radical Islamists" were gaining in popularity and the number of Canadian jihadists was growing.
He denounced leading Canadian Muslims opposed to extremist violence, naming writer Irshad Manji and imams Muhammad Robert Heft and Syed Soharwardy, calling them "deviant" and saying they were outnumbered by militants.
"Know very well that for every single sellouts [sic] like Tarek Fatah or Mubin Shaikh, we are gaining hundreds of brave Damian Clairmont and Andre Poulin from amongst you who are willing to sacrifice everything for the sake of Allah," he wrote.
Channel 4 News
Andre Poulin, a Canadian Muslim convert fighting in Syria who called himself Abu Muslim in a television documentary aired on Britain's Channel 4, said in June that his parents "don't understand entirely why I'm here."
More here. H/T: Fjordman via Jihad Watch