In a world void of anti-Semitism, the war against the Jews could not exist.*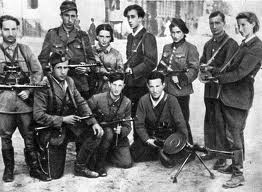 Ukrainian Jews form defense force to combat anti-Semitic attacks
Members of Kiev's recently-established Jewish rapid intervention force Photo: JTA
Ukrainian Jews with combat skills formed a rapid intervention force to stop anti-Semitic attacks.
The force, which was set up in recent weeks, currently is made up of eight men who served in the Ukrainian or Israeli armies or have martial arts skills, the team's founder, Tzvi Arieli, told JTA Thursday.
The defenders are armed with baseball bats that an American donor whose family hails from Kiev sent the team, he added. "We are trying to raise funds for bullet-proof vests which would greatly increase safety if the situation escalates," said Arieli, a Latvia-born former soldier of a special forces unit in the Israel Defense Forces who lives in Ukraine.
Arieli said he set up the task force — which now has its own Facebook page – at the request of Rabbi Yaakov Dov Bleich, a chief rabbi of Ukraine, following a series of anti-Semitic attacks that occurred in Kiev and beyond in the wake of a bloody revolution that erupted in November over former Ukrainian President Viktor Yanukovych's alleged corruption and perceived allegiance to Russia.
*Paraphrasing my pal TINSC concerning Israel, it's really the war on Jews, full stop.