Halal, it just isn't kosher.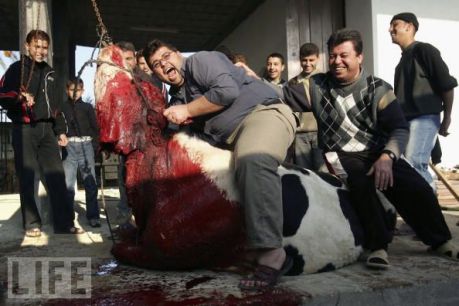 Pizza Express reveal ALL the chicken they use is halal – but they don't tell customers unless they ask staff
All chicken used in chain's food is prepared according to Islamic traditions
No mention of issue on menu and only appears in small print on website
Critics have accused the 434-restaurant chain of 'duping' its customers
Or is move because 'non-Islamic customers are less likely to complain'?
Firm insists birds are stunned before slaughter and food meets standards
WARNING: Graphic Content

Pizza Express is serving halal chicken to its unwitting customers on the quiet, with staff only telling customers about the meat if asked.
Only meat from birds that have had their throats slit while still alive, in accordance with Islamic traditions, is used in dishes.
The menu makes no mention of the issue and customers can find out only by checking the small print on the Pizza Express website – or by asking staff explicitly.
Slice: Pizza Express has revealed all of the chicken it uses is halal, meaning it is prepared in accordance with Islamic traditions. A file image of the Leggera Pollo ad Astra on its menu is pictured
Eating in: The issue is not mentioned on the restaurants' menus and customers can only find out if they check the chain's website or ask staff
The firm, which has 434 restaurants across the UK, states on its website: 'All our chicken is halal approved but it is important to note that all birds are stunned before being slaughtered.
'Our chicken supplier is accredited by the British Retail  Consortium. This means it meets the global standard for food safety and legality.'
A spokesman said: 'Our chicken is halal approved. We serve halal chicken in all of our UK restaurants. Pizza Express is committed to animal welfare standards.
Read more:  H/T: EDL Buck