Hack elected.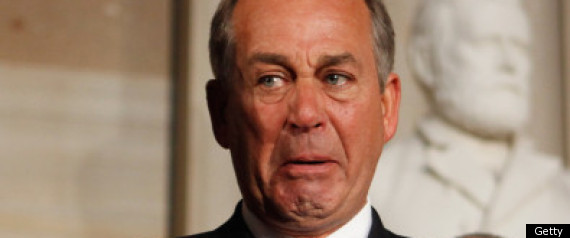 These type of politicians are a disgrace, they stand for nothing, and use the apparatus to feather their nest. Career politicians should be rejected at every turn.
BOEHNER WINS EASILY IN OHIO REPUBLICAN PRIMARY
Speaker John Boehner handily beat two primary challengers Tuesday in the Ohio elections today, coasting to victory against French teacher J.D Winteregg and computer consultant Eric Gurr.
The Associated Press quickly called the race for Boehner as results were still coming in. With 11.6% of precincts reporting, Boehner held nearly 70 percent of the vote.
Winteregg got the most attention in the race after releasing an ad suggesting the Boehner had "electile dysfunction." Boehner aired one ad for the election.
Another Tea Party challenger Matthew Ashworth dropped out of the race just days before the primary, throwing his support to Gurr.
Mark Levin on Johnny Boehner:
H/T: 12345mk