Islaomnazis, it's who they are, it's what they do.
PA and Hamas honor
Sbarro pizza shop suicide bomber
who murdered 15

Hamas: He "gave the Zionists a taste of humiliation"

PA: Funeral was "national wedding"  
– the Martyr's wedding to 72 Virgins in Paradise
by Itamar Marcus and Nan Jacques Zilberdik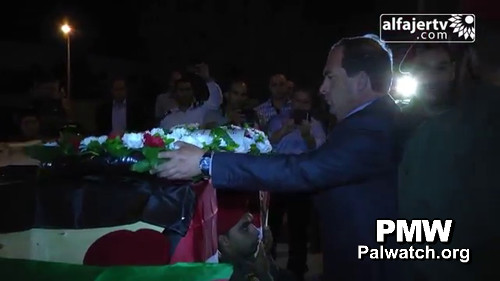 The terrorist who murdered 15 in the Sbarro pizza shop suicide bombing in 2001 was given a military funeral by the PA after his body was transferred to the PA last week. 

On Aug. 9, 2001 suicide bomber Izz Al-Din Al-Masri detonated himself in a Sbarro pizza shop in Jerusalem, killing 15, 7 of them children. 5 members of one family were killed in the attack. (See names below.) Palestinian Media Watch has reported that the PA in the past has honored Ahlam Tamimi, the terrorist who picked the Sbarro restaurant as the place for the bombing "because many people entered it", and later led the bomber there. Official PA TV has also glorified her. 

Last week, Israel transferred the body of the suicide bomber to the PA and both the PA and Hamas took the opportunity to honor the murderer once again. Reporting from the official military funeral, PA TV News called him a "Martyr," the highest religious level a Muslim can reach. In calling the terrorist a Martyr – a Shahid – the PA continues to teach its people that according to its interpretation of Islam, killers of Israeli civilians in suicide terror attacks are doing such a positive act, that it overrules the general Islamic prohibition against committing suicide. 
More here. H/T: Diana West