If there are any 'moderates', Islamic vigilantism will keep em in check.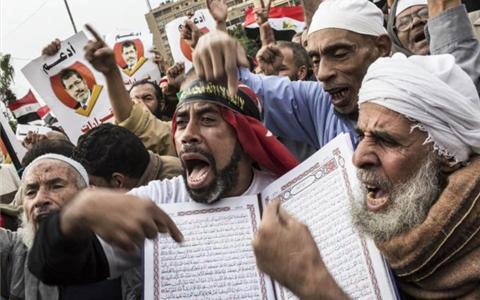 The Myth of the Moderate Muslim Majority
By Fred Dardick
Wednesday, April 23, 2014 
How many times have we heard the same old tired line, that only an infinitesimally small, almost imperceptible number of Muslims are radicalized? You know the story: a couple of young men cut the head off of a soldier in middle of a busy street yelling "Allahu Akbar" is followed by a litany of Islamic apologists on the airwaves claiming that the majority of Muslims are quite moderate and would never, ever condone such actions. Sounds great, but is it true? Short answer: Not even close.
The truth is the majority of Islamists are far more radical than what most Americans can appreciate. Take the question of apostates; those who leave Islam for another religion. According to the Koran the penalty is death. No negotiation, no compromise, just take the poor victim out back and cut off his head. The vast majority of Americans would consider such a penalty for switching religions a bit extreme, but according to a 2013 Pew Research Survey over 50% of Islamists in the Middle East and South Asia view beheading as an appropriate punishment for turning your back on Allah.
Then there's the question of punishment for female adulterers, which according to Islam is death by stoning, a view that is once again shared by over 50% of Islamists in the Middle East and North Africa. No wonder Islamic fathers and brothers have a tendency to murder their daughters and sisters when they "dishonor" their family – they're just following the example set for them by the Koran. Abu Azmi, a leader in the Indian Socialist Party and practicing Islamist, went even further by suggesting that female victims of rape should "be hanged" because they engaged in "sex" outside of marriage, a not at all unusual opinion in the Muslim world.
So while millions upon millions of Muslims are calling for the violent death of their neighbors who find Christ or are smitten with love, what do they think about actual dyed-in-the-wool terrorism? Here is where things get interesting. Rather than a majority getting behind bus bombings and school bloodbaths, the support for terrorist attacks against civilian targets drops to 20% or less in most Muslim communities, which is still around 250 million people worldwide openly applauding heinous crimes against their fellow man, a gigantic, mind-numbing number, but also likely means that 1 in 4 of them are lying. If you're going to support murdering your next door neighbor for converting to Christianity or stoning your daughter to death for having a boyfriend, what could you possibly care about a bus full of Brits getting blown to hell in London?
More here. H/T: Fjordman