So they're holding their noses to vote for him instead of the Leftist.
Egypt's Salafists to back Sisi as president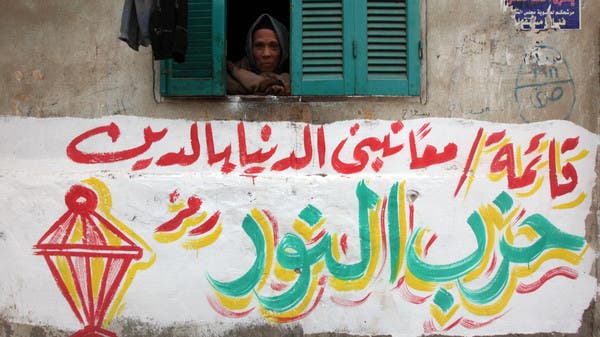 A woman looks through her window above an electoral slogan for Salafi political party Al-Nour that reads, "Together hand in hand we build the country through religion." (File photo: Reuters)
By Staff writer | Al Arabiya News
Saturday, 3 May 2014
Egypt's Salafist al-Nour Party announced Saturday that it will back ex-army chief Abdel Fattah el-Sisi in the country's upcoming presidential election later this month.
The party, considered to be the second-biggest Islamist group in Egypt after the Muslim Brotherhood, made the announcement after a meeting Saturday headed by its chairman Younis Makhioun.
The group said it has evaluated the results of the meetings between the only two candidates running in Egypt's presidential elections, Sisi and leftist leader Hamdeen Sabahi.
An overwhelming majority of party members have voiced their support for Sisi, Makhioun said, according to a statement on the group's Facebook page.