Islam 101
You see, Islam takes the most debase aspects of human nature/culture and incorporates them into its ideology. Slavery, institutionalized discrimination (dhimmitude), misogyny, FGM, antisemitism and yes, even crucifixion.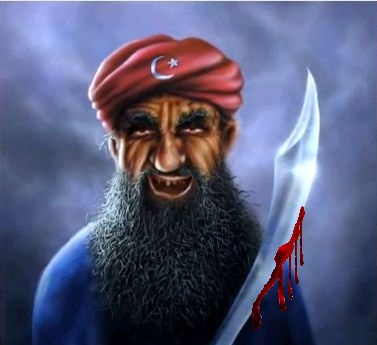 Syrian rebels crucified: Islamic extremists execute two men in the most public way for 'fighting against Muslims'
WARNING GRAPHIC CONTENT
Islamic State of Iraq and the Levant announced it had executed seven prisoners, including two by crucifixion
Group said it held the seven responsible for grenade attack this month
Islamic extremists have publicly crucified two Syrian rebels in northeastern Syria in revenge for a grenade attack on members of their group.
The jihadist Islamic State of Iraq said it had executed a total of seven prisoners who it claimed had carried out a grenade attack on one of its fighters earlier this month in the Euphrates Valley city of Raqqa.
The group, which even Al Qaeda have been keen to distance themselves from, said on Twitter: 'Ten days ago, attackers on a motorbike threw a grenade at an ISIL fighter at the Naim roundabout. A Muslim civilian had his leg blown off and a child was killed.
WARNING: GRAPHIC CONTENT
GRAPHIC CONTENT: Two men have reportedly been crucified by fighters from the Islamic State of Iraq and the Levant (ISIL) in the northern Syrian city of Raqqa
Photos taken in the northern Syria town of Raqqa on Tuesday, appear to show two men being crucified in public. It could not be independently verified that the men were dead or how they had been executed
'Our fighters immediately set up a roadblock and succeeded in capturing them. They were then able to detain other members of the cell.'
The Britain-based Syrian Observatory for Human Rights posted a photograph of the two prisoners being crucified at the roundabout.
Passers-by appear to be walking past the two men apparently unfazed.
One of the men is pictured with a banner wrapped round his body which reads: 'This man fought against Muslims and threw  a grenade in this place.'
Abu Ibrahim Alrquaoui, who described himself as a founder of the group Raqqa Is Being Slaughtered Silently, told FoxNews.com that those killed had previously fought against the Syrian government of Bashir al-Assad.
He said he witnessed the executions and took photographs which are now being circulated online.
The Syrian Observatory for Human Rights said they were not the first crucifixions by ISIL. On April 16, its fighters executed a man for theft from a Muslim in the same way.
The Britain-based Syrian Observatory for Human Rights posted a photograph of the two prisoners being crucified at the roundabout with passers-by walking past apparently unfazed.