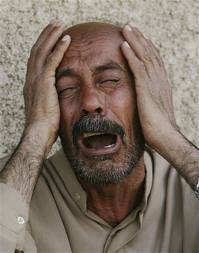 5 Pak Taliban militants killed in blast
Blood flows as more than 50 die in attacks a day before Iraqis go to the polls
Iraqis pick their new members of parliament tomorrow. The outgoing coalition led by Prime Minister al-Maliki is expected to win. Meanwhile, a back-to back blast kills 11 today, injuring scores more in a market north-east of the capital. Yesterday, a small Kurdish town was also hit. Armed Islamists want to keep voters away.
Baghdad (AsiaNews/Agencies) – At least 11 people were killed and 19 wounded in an outdoor market after a pair of back-to-back bombs ripped through an outdoor market today, a day before the country goes to the polls tomorrow, the first nationwide balloting since the 2011 withdrawal of US forces.
According to local witnesses, the attacks are an attempt by Islamist militants to discourage voters from going to the polls. More than 9,000 candidates are vying for 328 seats in parliament, which is widely expected to be won by an alliance led by outgoing Shia Prime Minister Nuri al-Maliki, who is likely to succeed himself for a third time.
Egypt court sentences hundreds of Muslim Brotherhood supporters to death
April 29, 2014 — Updated 1129 GMT (1929 HKT)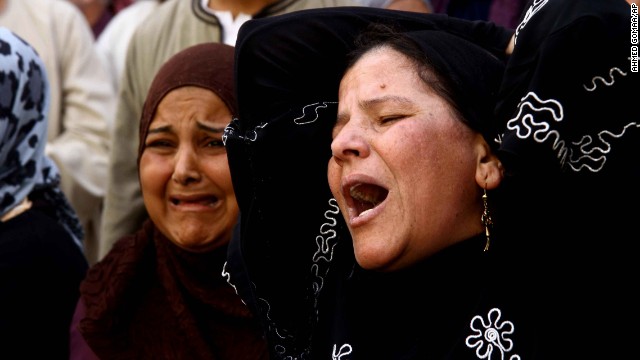 Egypt court sentences hundreds to death
(CNN) — An Egyptian court has sentenced the leader of the now-banned Muslim Brotherhood and hundreds of supporters to death, state television said Monday.
Intensifying a crackdown on the Islamist movement ahead of elections next month, the same court also handed down a final capital punishment ruling for 37 others.
Charges in both cases, which were tried by the same judge, are related to violent riots in the central Egyptian city of Minya in August.
A police officer was killed during the violence, which followed a deadly crackdown by security forces on two Cairo sit-ins being held by supporters of former Islamist President Mohamed Morsy, who was ousted last July.
Mohammed Badie, the Brotherhood's leader, is among 683 supporters of Morsy whose death sentences are not final — as the case has been referred to the nation's grand mufti, Egypt's highest religious authority, for review.
Dozens of troops, militants killed in Yemen
A general view shows the southeastern Yemen city of Mukalla. -Photo by AFP ADEN:
Suspected Al Qaeda militants killed 18 Yemeni soldiers in separate ambushes on Tuesday as the army launched a ground offensive against their remaining strongholds in the south, medical and security sources said.
Twelve militants were also killed when the ambush in Shabwa province sparked a gunfight, tribal sources said.Ten soldiers were wounded and 15 captured, medics and an officer said.
The ground offensive, which was launched just hours before the opening of a donors' conference in London, seeks to capitalise on Al Qaeda losses in a blistering US-backed air offensive last week in which nearly 60 suspected militants were killed.
Attacks kill nearly 60 in Homs, Damascus, Syrian media report
April 29, 2014 — Updated 1604 GMT (0004 HKT)
(CNN) — At least 58 people in Syria were killed Tuesday in "terrorist" mortar and car bomb attacks in the city of Homs and the Damascus area, the state-run Syrian Arab News Agency reported.
A car bombing in Homs' al-Zahra neighborhood killed 40, SANA reported, citing an unnamed source in the area.
The Syrian Observatory for Human Rights, a London-based monitoring group, also reported many casualties, including women and children, in the car bomb attack.
It described al-Zahra as an Alawite neighborhood. Syria's President Bashar al-Assad is a member of the Alawite religious sect, which is an offshoot of Shia Islam.
In Damascus, mortar rounds hit the al-Shaghour neighborhood. Two slammed into the Badr-Eddin al-Hooni Institute for Islamic Sharia Sciences, killing 14.
Four people were killed in a mortar strike at a center for displaced people in the Damascus countryside. Three of those killed were children.