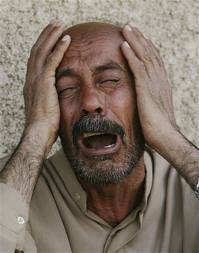 3 dead after Friday clashes
Two citizens and one policeman were reported dead as security forces clashed with Morsi supporters
Three people died in separate incidents on Friday as clashes erupted between security forces and supporters of ousted President Mohamed Morsi.
Two people died and a third was injured amid "rallies" in the governorate of Fayoum on Friday afternoon, the Ministry of Health reported. A policeman was also killed on Friday night in the Matareya neighbourhood of Cairo, the Ministry of Interior announced.
The Ministry of Health reported that one man died of "natural causes" as he walked by a protest in Fayoum, adding that the body of the deceased had no injuries and that his death had nothing to do with the clashes.
The Anti-Coup Alliance, a group of political movements who support Morsi and call for his reinstatement, disputed the ministry's description of events, however. The alliance stated that the deceased, a 62 year-old-man, suffocated from the teargas security forces fired on protesters.
The alliance also accused security forces of shooting the other victim, a woman.
Many killed in Iraq reprisal attacks
Sixteen killed in apparent sectarian attacks, a day after multiple bombings killed 37 at election rally.
More than 1,400 people have been killed in the first two months of this year in Iraq [Reuters]
At least 16 people have been killed in a series of apparent sectarian attacks in Iraq, a day after multiple bombings targeted a Shia political rally in the capital Baghdad.
Police found nine bodies, some bullet-riddled, in several Sunni and Shia districts of Baghdad on Saturday, security officials told the Associated Press news agency.
In the Sunni area of al-Amil in western Baghdad, two people were killed after gunmen in a speeding car opened fire on a group of civilians.
Police and medical officials said four people were killed and 11 wounded after a bomb exploded inside a small restaurant, in the Shia district of al-Nasir in the eastern suburbs of the capital.
Several hours after the Baghdad bombing on Friday, a senior Sunni politician was shot dead in the Shia dominated southern city of Basra.
Syria: the children killed by Assad's chlorine gas bombs
Syrian civilians die slow, painful death from chemical weapons used in violation of convention regime signed in September
It took much of the afternoon for Mahmud Hashash to die, writhing, gasping for breath and spluttering blood as the chlorine gas corrupted his six-year-old lungs.
The doctors did all they could to save him. Using a nebuliser and oxygen pump they fought the noxious chemical that was burning his throat and capillaries.
Ethnic violence in S Sudan, five dead
A rebel spokesman claims that huge numbers of Nuer military trainees were killed in the latest incident Friday. Rebel Brigadier General Lul Ruai Koang said that 220 Nuer officers and trainees at Mapel Military Training Centre in Western Bahr El Ghazal state were deliberately killed.
Either statement is impossible to verify, Associated Press reports. Koang's claims in the past have been wildly exaggerated, but military and government death tolls announced to the public have also sometimes been underreported. Aguer denied that Koang's claims were true. 
5 dead after Taliban down UK helicopter in Kandahar 
Taliban have taken responsibility for downing the UK helicopter with 5 servicemen aboard reported dead, April 27, 2014. —AFP pic
KANDAHAR, April 27 — Five British service members were killed today when their helicopter crashed in a mountainous area of southern Afghanistan, according to a BBC report.
The aircraft crashed near Kandahar air base and was carrying four soldiers and one airman.
In claims rejected by British defence officials, a spokesman for the Taliban said its fighters had shot the aircraft down.
While details of the exact cause of the crash remain scarce, pending a preliminary investigation, the defence officials suggested the helicopter crashed due to a technical failure.
The British-made helicopter was a Westland Lynx MK 9, an aircraft typically used for reconnaissance, evacuating casualties and the movement of troops.