A wolf in sheep's clothing is still a wolf.
They never rest, always seeking a chance to subvert, what better way to further the mission than to weasel into a council that's a bastion of pro-Israel support, then turn it. It's what the Left has been doing to Zionist Christian groups in evangelical circles. This latest assault needs to be nipped in the bud once and for all.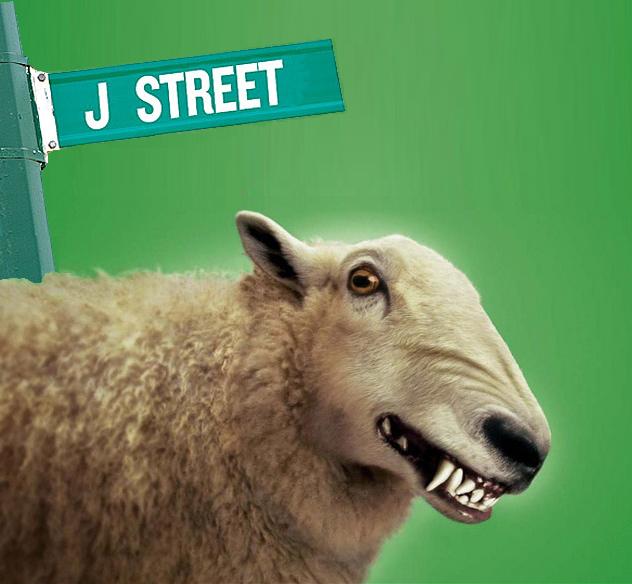 J Street wants a seat at the Conference of Presidents of Major American Jewish Organizations.
Published: April 24th, 2014
In a move that will surprise nobody, for its effort to become a member of the Conference of Presidents of Major American Jewish Organizations, J Street has the backing of the Jewish Council for Public Affairs. The JCPA has long been clamoring to include J Street as part of its "big tent" approach to Jewish communal life. And no wonder, the two organizations are closely aligned on most issues, domestic and foreign.
What should also come as no surprise to anyone, those American pro-Israel organizations which see their major focus as global security, including Jewish communities worldwide generally and the Jewish state in particular, such as the Zionist Organization of America, are opposed to ushering in yet another organization into the 50 strong member group which they see as engaging in moral equivalency between Israel and her Arab neighbors.
The issue comes to a vote April 30. And members on both sides of the vote are busily lobbying people to make their voices heard by those who will be voting.
The Conference of Presidents includes most of the major Jewish organizations with which most people are familiar, but there are others who are members that would probably surprise most people.
For example, everyone expects such groups as the ZOA and the American Jewish Committee and the Anti-Defamation League to be members, the same goes for the offices of the major branches of Judaism. But what Workman's Circle (a blend of "workers' rights" mit a bissel Yiddish?) Not to mention the Jewish Labor Committee ("The Jewish voice in the labor movement, and the voice of the labor movement in the Jewish community.")  Then there's the Hebrew Immigrant Aid Society which is still very much involved in the needs of immigrants, but not too many of whom are Hebrews.
Other organizations such as CAMERA (which deals with media bias against Israel) and Hadassah and Americans for Peace Now and the Jewish Federations and the National Council of Young Israel all also have seats at the Conference of Presidents.
Early word was that the J Street leadership came in for heavy grilling by members, especially with respect to their support for and frequent partnering with organizations which advocate for various forms of economic and legal warfare against Israel, known as the BDS (Boycott of, Divestment from and Sanctions against Israel) movement.
An article in the Forward earlier this month revealed that J Street failed to garner the approval of a critical committee which would have smoothed the way to membership. That article explained that in order for J Street to gain admission there would have to be a 75 percent quorum present, and a two thirds vote.
According to the mission statement of the Conference of Presidents, at least one of the two primary issues on which the Conference focuses should signal a serious battle regarding the admission of J Street, the other one, only slightly less so: "The Conference is at the forefront mobilizing support to halt Iran's nuclear program and to counter the global campaign to delegitimize Israel and the Jewish people."