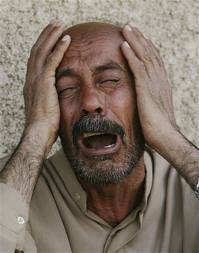 Egyptian killed in Muslim-Christian clash
File Photo
The violence was triggered by a dispute between two motorists – a Muslim and a Christian – over who should pass first in Al-Khusus, a city within the northern Qalioubiya province.
World Bulletin / News Desk
One person was killed and 16 others were injured early on Saturday in clashes between Muslims and Christians north of Cairo.
The violence was triggered by a dispute between two motorists – a Muslim and a Christian – over who should pass first in Al-Khusus, a city within the northern Qalioubiya province.
The duel then evolved into a full-fledged gunbattle, leaving a Christian man dead and 16 other people injured, according to the Health Minsitry.
Policemen rushed to the scene of the violence to bring the situation under control.
Taliban leader among 5 rebels killed in Ghazni mosque explosion
By GHANIZADA – Sat Apr 19 2014, 10:46 pm
A local Taliban commander was among five militants killed following an explosion inside a mosque in eastern Ghazni province of Afghanistan.
Local government officials said the militants were killed while they were making an improvised explosive device (IED) to carry out a roadside bomb explosion.
Deputy provincial governor Mohammad Ali Ahmadi said the incident took place on Saturday morning in western party of Ghazni city.
Ahmadi further added that the Taliban commander was recognized as Mullah Sadiq who was killed along with four other militants following the explosion.
The Taliban militants frequently use improvised explosive device (IED) to target Afghan and coalition security forces.
This is not the first time that the anti-government armed militants are using mosque to prepare improvised explosive device (IED).
48 killed in attack on peacekeepers' base in South Sudan, U.N. says
April 19, 2014 — Updated 1226 GMT (2026 HKT)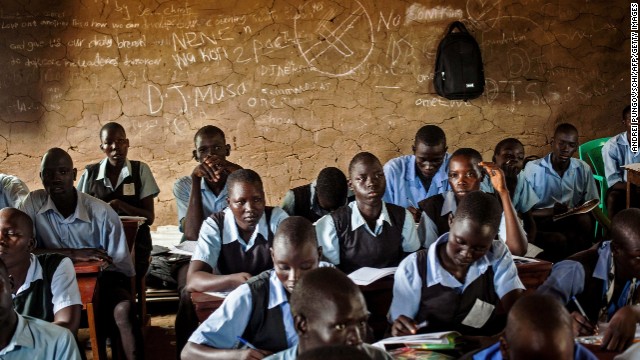 Students take notes during an English language class at the Juba Nabari Primary School in Juba, South Sudan, on Wednesday, April 9. Recent conflict in the country has made resources scarce; many civil servants, including teachers, have not received their pay for several months. South Sudan erupted in violence on December 15 when rebels loyal to ousted Vice President Riek Machar tried to stage a coup. Violence quickly spread, with reports of mass killings emerging nationwide
.
STORY HIGHLIGHTS
Militants use rocket-propelled grenades to attack U.N. base in Bor
Death toll is expected to rise, U.N. spokesman says
South Sudan seceded from Sudan in 2011 after decades of war
(CNN) — Heavily armed militants staged an attack on a U.N. peacekeepers' base that was sheltering civilians in South Sudan on Thursday, killing at least 48 people and seriously injuring dozens more, a U.N. spokesman in the country said Friday.
The attack on the U.N. base in Bor, the capital of Jonglei state, began when militants used rocket-propelled grenades to breach the compound, U.N. spokesman Joseph Contreras said.udan violence
Contreras said the gunmen then opened fire at the base, where peacekeepers had been hosting and protecting nearly 5,000 civilians.
Drone strike in Yemen kills suspected al Qaeda militants
April 19, 2014 — Updated 1951 GMT (0351 HKT)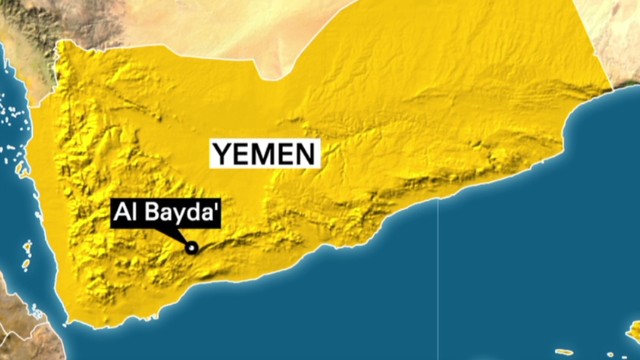 Yemeni officials say al Qaeda operatives among the dead
STORY HIGHLIGHTS
NEW: Drone strikes targeted a truck carrying 11 suspected militants, officials say
NEW: One of the strikes inadvertently hit a civilian pickup truck, a witness says
Most of those killed were al Qaeda militants, Yemeni officials say
Sanaa, Yemen (CNN) — A drone strike in Yemen on Saturday killed at least 10 suspected al Qaeda militants but also inadvertently resulted in the deaths of three civilian day laborers, a high-level Yemeni government official told CNN.
The strike targeted a pickup in al-Hazemiyah district of al-Bayda province, three Yemeni Defense Ministry sources said. The militants were heading to neighboring Shabwa province, a hotbed for al Qaeda, they said.
"The truck targeted carried 11 militants. The targeting came while they were in transit after leaving a training site. Ten were killed and one was injured," the government official said on the condition of anonymity.
A civilian truck carrying five day laborers was also hit in the strike, the official said. Three died and two were wounded.
A casualty toll released earlier by the three Yemen Defense Ministry officials was slightly higher, with 12 suspected militants and three civilians reportedly killed.
"The militants were on a coordinating mission, and we have had our eyes on them for quite a while now," a senior ministry official told CNN on the condition of anonymity because he is not authorized to talk to media.
16 dead in day of violence in Iraq
Attacks across Iraq, including a series of bombings targeting shoppers in a Sunni neighbourhood in the capital Baghdad, have killed at least 16 people today.
In the neighbourhood of Dora, police said two bombs exploded on busy commercial streets this morning killing four people. Later, three more bomb blasts in the same area killed five people and wounded 10.
Outside of Baghdad, police said a suicide bomber killed five soldiers and wounded eight at a checkpoint in Mishada, some 20 miles north of the capital. Also today, a roadside bomb killed two soldiers on patrol and wounded five people in Tarmiyah, 30 miles north of Baghdad.
Health officials confirmed the casualty figures.