Polite golf clap.
Or as I like to call her, Catheter Ashtray, always sticking herself into place or situation where she isn't wanted or needed.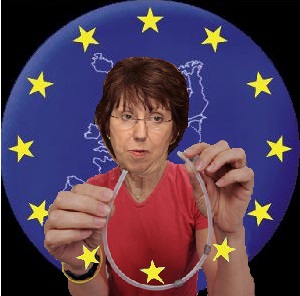 Liberman slams EU's Ashton for remarks on Israeli measures against Palestinians
Foreign Minister Avigdor Liberman. 

Photo: Marc Israel Sellem/The Jerusalem Post
Foreign Minister Avigodor Liberman chided EU foreign policy chief Catherine Ashton on Friday for finding the "real dangers to world peace" after she issued a statement calling on Israel to backtrack on measures taken against the Palestinians.
Liberman criticized the top EU diplomat for calling on Israel to reverse recent decisions made in regard to the West Bank and east Jerusalem, insinuating that she should concentrate on what he indicated were a multitude of more pressing issues.
He denounced the timing of Ashton's statement at a time when he said "there are many other instances around the globe of charged confrontations and conflicts that claim human life," citing the crisis in Ukraine, the Syrian civil war and violence in Iraq.
Liberman on Facebook sarcastically charged that "it was lucky that the European Union knows how to diagnose critical problems in the world and take care of them quickly and decisively."