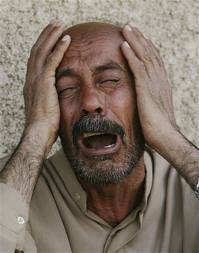 36 killed, 53 wounded in violent attacks across Iraq
English.news.cn   2014-04-16 22:47:12
BAGHDAD, April 16 (Xinhua) — Thirty-six people were killed and 53 others wounded in separate attacks across Iraq on Wednesday, police and medical source said.
In Anbar province, two suicide bombers blew up their explosive- laden cars into two checkpoints at the entrance of a compound including Anbar Operations Command in the northern part of the provincial capital city of Ramadi, some 110 km west of Baghdad, a provincial police source told Xinhua on condition of anonymity.
The blasts killed five soldiers and three policemen, and wounded seven others, the source said.
In a separate incident, gunmen attacked a joint checkpoint of policemen and members of a government-backed Sahwa paramilitary group in al-Houze district in central Ramadi, causing three policemen killed and two policemen and four Sahwa members wounded, the source said.
Photo By Uncredited/AP
Three Lebanese TV staff killed in Syria
Three members of a Lebanese television news crew were shot dead in the Syrian town of Al-Maaloula, 60 km south of Damascus, on Monday (14 April).
They were reporter Hajj Hassan, cameraman Mohammed Mantash and technician Halim Allaw, who worked for Al-Manar, a TV station owned byLebanon's Hezbollah.
The broadcaster said the vehicles used by its employees clearly display "Press" signs. It is believed the three were killed by rebels after the town was retaken by government forces backed by Hezbollah.
Australian and New Zealander killed in drone attacks in Yemen
Both men had links to terrorism, says NZ prime minister, as deaths in November strikes are revealed
Wednesday 16 April 2014 04.29 BST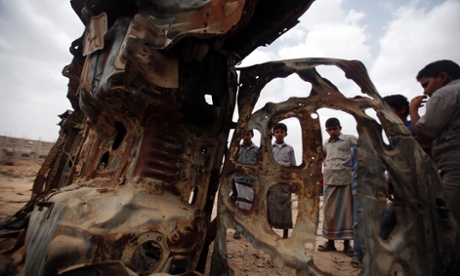 An Australian and a New Zealander with links to terrorism were killed in November during a drone strike in Yemen, the New Zealand prime minister said on Wednesday.
John Key said he believed the New Zealander had attended a terrorist training camp. He said that among those killed in the strike were three known al-Qaida operatives.
Key said the New Zealand man was being watched by intelligence agencies and that he had been informed last year that the man had travelled to Yemen. He said he was told in late 2013 that it was highly likely the man had been killed in the drone strike, but that it took some time for DNA results to confirm that.
Officials from both Australia and New Zealand said the New Zealand man had dual citizenship in both countries. Key said he was born in New Zealand.
Australian officials released a statement about both men.
"We understand the men were killed during a counter-terrorism operation and do not intend to discuss its details," the department of foreign affairs said in a statement. "There was no Australian involvement in, or prior awareness of, the operation."